3M Scotch Performance Masking Tape, 11/16'' x 180'
A stretchy backing and strong adhesive make this a great clamping tape for small moldings and other delicate parts.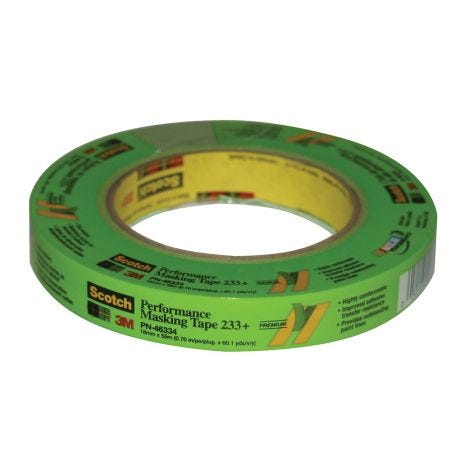 Just a bit of stretchiness gives 3M Scotch® Performance Masking Tape the perfect properties for clamping small moldings and other delicate parts. Designed as a high-performance green masking tape for the auto body industry, woodworkers have discovered that its strength and elasticity make it a great binding tape that pulls parts together, rather than just holding them in position. You can even fold mitered joints together, with the tape holding the outside corner tight as you fold. Luthiers and guitar makers use it to clamp edge bindings and other decorative elements. Or use it to apply shelf edging. Once you see how easy it is to use, you'll find all kinds of opportunities to clamp instead of nail, eliminating putty, sanding and the risk of cracked moldings.
Features:
Elasticity lets you apply tension before pressing the tape down
Rubbery adhesive adds stretchiness and better holding power
Peels off neatly without lifting coatings or leaving a residue
In masking applications, leaves a clean, sharp paint line
Excellent end-to-end strength for resistance to breaking
Superior conformability to curved and contoured surfaces
(1) Roll of Scotch® Performance Masking Tape 233+, 11/16'' x 180'
More Information
Manufacturer Part Number
3431
Weight
0.200000
Tech Spec

Tape Width: 18mm (~11/16'')
Tape Length: 55m (~180')
Color: Green