Rockler Adjustable Clamp-It Assembly Square
Clamping angled parts is notoriously difficult—this clever tool rotates from 45° to 315° to make it easy.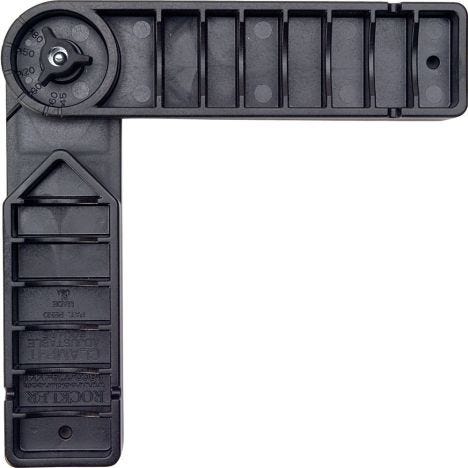 There are few things more difficult than holding pieces of a project at odd angles while trying to assemble with a nail or screw. The Adjustable Clamp-It rotates from 45º to 315° and locks in place at the angles you'll need most, including 45° and 60°. Of course, you can use it at the 90° setting as well for the bulk of your work. Works with most joinery techniques, from dovetails to butt joints. Use it with our Clamp-It Bar Clamps (e.g. #61003, sold separately) for even easier assemblies.
Features:
Easily assemble angled cabinet parts, stair railings, deck components, angle boxes and more!
Replaces custom clamping jigs, acts as a third hand, and reduces the need for long clamps
Locks at 90°, 45°, 60° and multiples of 45° and 60°—interlocking teeth securely set the angle
Manufactured from high-impact, rigid polycarbonate to ensure strength and accuracy
Clamp and fasten projects with odd angles or 4-, 6-, 8- and 12-sided frames
Measures 8'' x 8'' x 1-1/2''
(1) Rockler Adjustable Clamp-It Assembly Square
More Information
Brand
Rockler
Weight
0.750000
Tech Spec

Material: Rigid polycarbonate
Overall Dimensions: 8'' x 8'' x 1-1/2''
Angle Detents: 45°, 60°, 90°, 120°, 135°, 180°, 225°, 240°, 270°, 315°

Length
8"
Style
Square