Rockler Adjustable Clamp-It® Assembly Square
Rotates from 45 degrees to 315 degrees to help clamp almost any angle.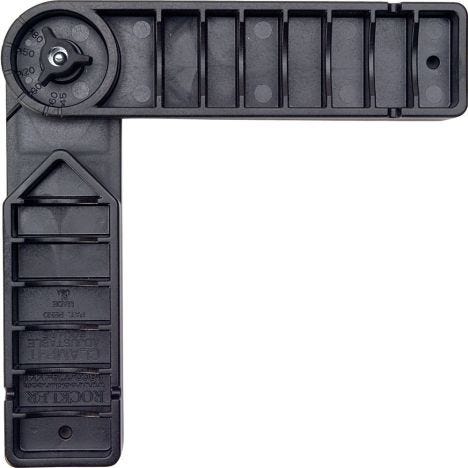 There are few things more difficult than holding pieces of a project at odd angles while trying to assemble with a nail or screw. The Adjustable Clamp-It rotates from 45º to 315° and locks in place at the angles you'll need most!
Features:
Works with any joinery technique.
Easily assemble pedestal bases, staircases, decks, cabinets, drawers and more without custom clamping jigs!
Replaces custom clamping jigs, acts as a third hand, and eliminates the need for long clamps.
Measures 8" x 8" x 1-1/2".
Clamp it and fasten it at 90 degree and multiple angles.
Manufactured from high-impact, rigid polycarbonate to ensure strength and accuracy.
Clamp and fasten projects with odd angles or typical 4-, 6-, 8- and 12-sided frames.
Knob twists for tightening and loosening, while interlocking teeth securely set angle.
(1) Rockler Adjustable Clamp-It® Assembly Square
More Information

| | |
| --- | --- |
| Brand | Rockler |
| Weight | 0.750000 |
| Length | 8" |
| Style | Square |