Rockler Clamp-It Assembly Square with 2-Pack Universal Fence Clamps
Align it, clamp it and fasten it—included Universal Fence Clamps hold the square firmly in place.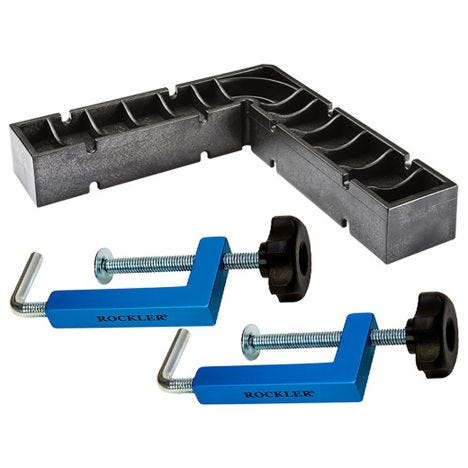 Current Price:
$
24
.
99
KT
Original Price:
$29.99
KT
You might think clamping a 90° joint couldn't get any easier than it is with our Clamp-It® Assembly Square, but it just did. That's because we're including a pair of Universal Fence Clamps in this all-in-one package! The Clamp-It® Assembly Square replaces custom clamping jigs, acts as a third hand, and reduces the need for long clamps. Used with the included Universal Fence Clamps, you can assemble any two pieces at 90°, or even a cabinet one corner at a time.
Features:
Works with any joinery technique, from nails to handcut dovetails
Ideal for every stage of construction, from assembling plywood cabinets to face frames and drawers
Perfect for framing decks, drawer assembly, and installing rails and balusters
Fence Clamps may also be used to secure a huge variety of shop-made auxiliary fences to your existing fences without having the clamp interfere with your work
Use the fence clamps singly for stop blocks, or in pairs for sacrificial fences, half-fences, resaw fences, and a variety of other fixtures
Works great for table saws, bandsaws, cutoff saws, router fences and more
Attach the Clamp-It® to a work surface using the Universal Fence Clamps, and it becomes a right angle fixture for assembly
Clamp-It® features a 3/8'' hole in each leg to accommodate the Universal Fence Clamp Fence Clamps
Clamp-It® Square is manufactured from high impact, rigid polycarbonate to ensure strength and accuracy
Clamp-It® Measures 8'' x 8'' x 1-1/2''
Fence Clamps are made of rigid aluminum body with steel threaded components
Fence Clamps: Range of travel 1/2'' to 5-3/4'' (1/2'' minimum assumes a 3/4'' auxiliary fence; you can clamp to an even thinner primary fence if you use a thicker auxiliary fence)
Auxiliary fences may need a 3/8'' hole drilled to accommodate the Fence Clamps
(2) Universal Fence Clamps
(1) Clamp-It Assembly Square
More Information
Brand
Rockler
Weight
1.800000
Tech Spec

Material: Rigid polycarbonate
Overall Dimensions: 8'' x 8'' x 1-1/2''

Grip Style
Screw