Basswood Lumber by the Piece
Perfect for custom-made plantation shutter frames—all pieces are guaranteed to be free of defects on at least one face and two edges. Fully surfaced on all 4 sides to actual dimensions.
Creating your own custom shutters is easy! First consult the Measuring Guide to obtain your dimensions. Then enter the shutter dimensions into the Design Wizard to get your FREE downloadable plan. The plan includes a detailed list of all the supplies you'll need to construct your custom shutters!

Step 1: Measuring Guide

Step 1: Design Wizard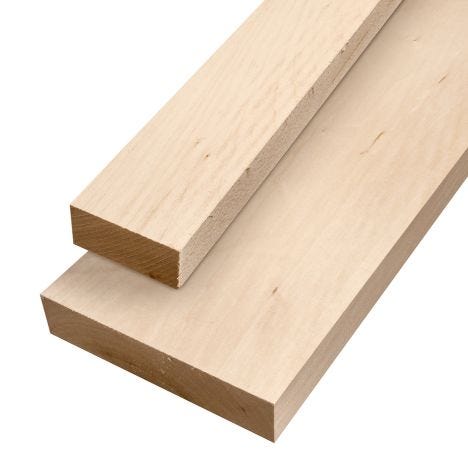 Our basswood lumber is ideal for building the frames on your custom-made plantation shutters. All stock is pre-planed to the appropriate 1-1/16'' thickness. For stiles, buy the 2-1/4'' wide stock. For rails, the stock width will vary depending on the height of your louvered panel. In many cases, you'll want to buy the 5'' stock for the rails, and rip it to the width you need. Use our Design Wizard to generate a cut list for your project, then buy lengths slightly longer than you need and trim to the exact length.
Features:
All of our basswood lumber is premium-grade stock (FAS Grade First and Seconds)
Surfaced smooth on both faces (S2S) so planing is not required
Guaranteed to be free of defects on at least one face and two edges
Kiln-dried to 7% to 8% moisture content
Planed to 1-1/6'' thick—perfect for shutter frames
May be used for numerous other projects as well
(1) Piece of Basswood Lumber
More Information
Tech Spec

Species: Basswood
Thickness: 1-1/16''

Species
Basswood