Where are the best places to buy hardwood lumber near me? You obviously can't do woodworking without wood, but many new woodworkers aren't sure where to find quality hardwood lumber. Rockler has increase the variety and quantity of hardwood that is stocked at both the Rockler retail stores and online at Rockler.com. In this Rockler demo, we'll give you a tour of a Rockler retail store lumber department, show you the lumber you can order online, and share some alternative hardwood lumber source options.
.
VIDEO: Shopping for Hardwood Lumber at a Rockler Store and Online
Hardwood Lumber Supplies at Rockler Retail Stores and Online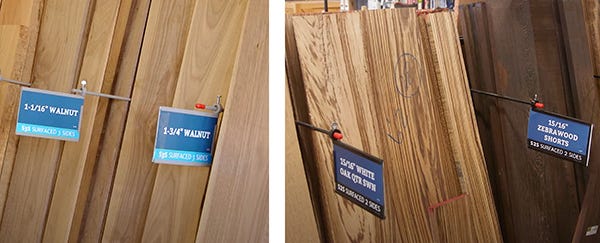 You'll find a wide variety of domestic and exotic hardwood species at all Rockler retail locations. Domestic lumber is typically milled S3S (surfaced three sides). Exotic lumber is typically milled S2S (surfaced two sides). All boards are available in a variety of widths and lengths.

If you need shorter boards for transport, most locations also offer cut-to-length board cutting service.
Select your location and see an updated list of the lumber that is currently in stock.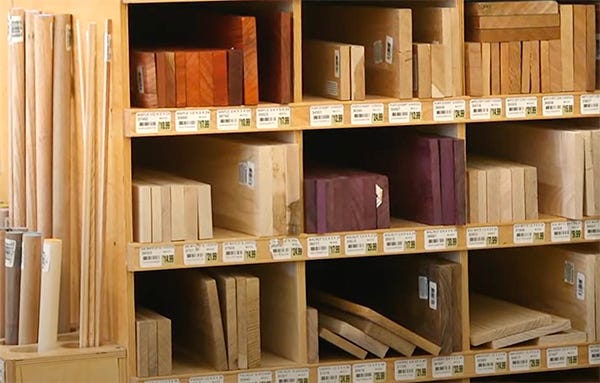 Rockler retail locations also offer a large supply of shorter boards and thin thicknesses in multiple domestic and exotic species - perfect for small projects. Most of these smaller stock pieces are also available to order from the Rockler online lumber supply.
Find special discounts on a the featured species each month.

Rockler also stocks a variety of one-of-a-kind live-edge slabs and cookies in both the retail locations (left) and online. Slabs that are available for shipping are photographed on a measured grid (left) to give you an accurate idea of their size and shape. Every piece is unique in size and shape, so if you see something you like, it's best to grab it or you'll risk loosing it to another lucky woodworker.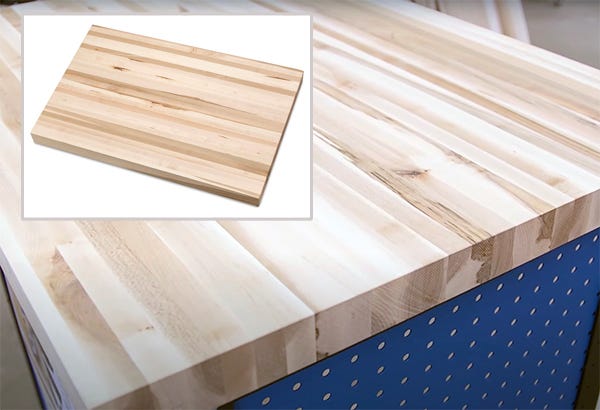 One of the newest additions to the Rockler lumber supply is butcher block. Butcher Block Worktops are available in several sizes in retail stores and online.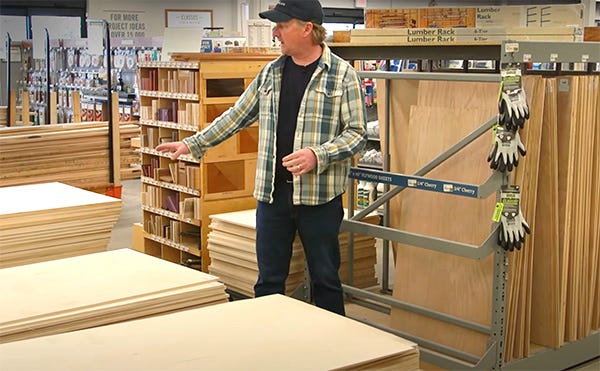 Hardwood plywood is also available in multiple sizes online and in retail stores. As you might expect, the retail locations carry larger-sizes than we can ship online.
Other Sources for Hardwood Lumber
1. Local Specialty Lumberyards
Specialty lumberyards typically stock domestic hardwood and softwood lumber that is suited for building furniture and cabinets. These are the supplies that contractors often use to supply the larger quantities they need for commercial projects. Many also carry a selection of exotic woods, one-of-a-kind figured and slab lumber. These yards can be a little intimidating initially because they sometimes don't feature the same fixtures and directions that you'll find at a retail store, but they are the are usually open to the general public and can be a great resource for hardwood lumber.

2. Home Centers
Many new woodworker's first attempt to shop for hardwood is at a home center or "big box" store. Home centers are a great source for construction-grade lumber for building decks or framing a building, but there are better options for finding the best hardwood lumber.

3. Classified Ads
Ads on Craigslist and other similar listing sources can put you in touch with local sawyers who cut, dry and sell lumber on a smaller scale. Want ads are also a great option for buying caches of boards stored in barns, sheds and home shops. Often, families of deceased woodworkers are willing to sell off inventories of lumber for very modest prices, particularly to buyers who will put a loved one's precious boards to good use.

4. Backyard Lumber
Finding lumber in your backyard might seem implausible, but there's no reason your storm-downed maple or overgrown oak tree couldn't become excellent lumber if you can process the log. Here again, classified ads can help. Find an enterprising sawyer with a portable band saw mill who can come and slice the log into green lumber. You'll need to air-dry the material for at least a year, or have it kiln-dried, but the sawyer may have suggestions for who could take care of that part of the process, too.