Bench Accessory Kit with 2' x 3' Bench Mat
Includes a 2' x 3' mat for routing and sanding, bench dogs for securing work with the vise, and holdfasts to serve as hold-down clamps.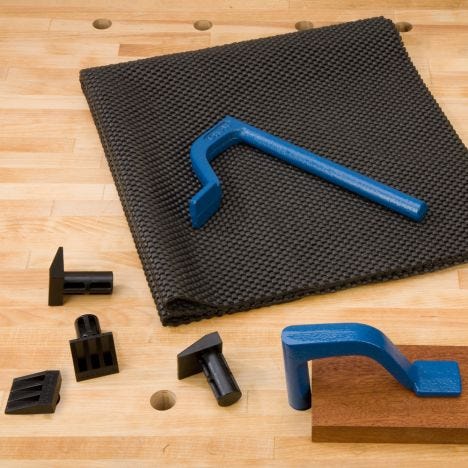 Get more out of your workbench with our seven-piece bench accessory kit. The kit features a 2' x 3' non-slip mat to prevent work pieces from moving while using a router or electric sander. When more firm clamping is needed, the two hold fast clamps slip into 3/4'' dog holes to hold your work to the bench, while the four Bench Dogs work with the vise to hold your stock while belt sanding or hand planing.
7-Piece Bench Accessory Kit
(1) Non-slip router pad
(2) Hold fast clamps
(4) Bench dogs
More Information
Brand
Rockler
Weight
3.500000
Tech Spec

Non-Slip Router Pad

Dimensions: 24''W x 36''L
Material: Joined rubber squares
Color: Black

Holdfast Clamps

Reach: 4-1/4''
Length: 8-1/4''
Diameter: 11/16''

Rockler Bench Dogs

Compatible Dog Hole Diameter: 3/4''
Height: 7/16''
Material: Polymer