Rockler Round Bench Dogs, 4-3/8'' Long
Sturdy aluminum dogs prevent stock from sliding while sanding or planing—spring steel wire allows easy height adjustment.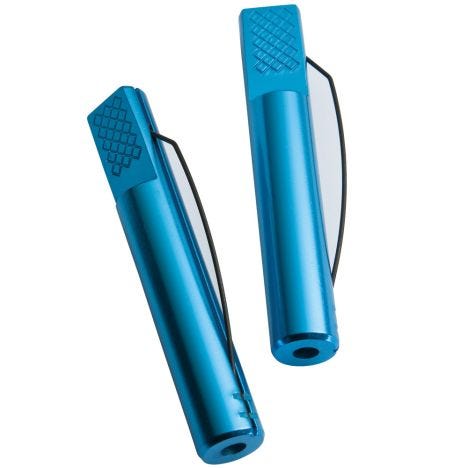 Bench Dogs provide a time-tested way of keeping stock from sliding across the workbench while sanding or planing. Ours feature a side spring that allows you to easily adjust the height of the dog—lower for thinner stock and higher for thicker stock. This version is 4-3/8'' long, with a flat section that is 1-3/16'' high—great for use in thick workbenches. You can use them alone as planing stops, or with an end vise or front vise to securely clamp your work to the bench. Made from anodized aluminum. Fits into 3/4'' diameter dog holes.
Features:
A time-tested way of holding stock for sanding or planing
Works with 3/4'' diameter dog holes
4-3/8'' length allows use in thinner benchtops or tables
Spring-steel side wire allows easy height adjustment
Easy storage in the dog hole itself—just push it down
1-3/16'' high flat face with knurling and 2° downward angle to prevent lifting under pressure
(2)Rockler Round Bench Dogs, 4-3/8'' Long
More Information
Brand
Rockler
Weight
0.350000
Tech Spec

Brand: Rockler Innovation
Material: Anodized aluminum with spring steel side wire
Overall Length: 4-3/8''
Diameter: 0.73''
Height of Flat: 1-3/16''