Bessey K-Body REVOlution Parallel Bar Clamps
More clamping force, dual anti-slip protection and a hex socket in the handle for comfortable application of additional force.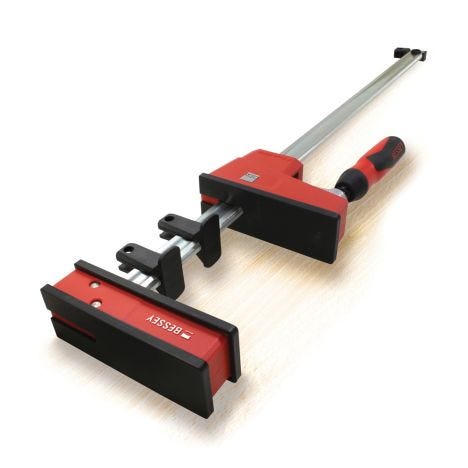 Bessey's K Body REVOlution parallel clamps boast approximately 1,000 N of additional clamping force over their predecessors. In addition, you can apply force with a 6mm hex key in the socket at the end of the handle—ideal for users with wrist issues. Dual anti-slip protection prevents unexpected jaw release, while the extra-large clamping surfaces stay at a right angle to the rail, making them ideal for keeping drawers and case goods square, as well as for standard panel glueups. All four edges of the clamp face can be used for clamping: standard full jaw, laying on either side, or upside down, clamping with the heel—ideal when you don't have enough space on the workpiece, or beneath it, to use the whole clamp face.
Features:
Sturdy jaw construction with metal-reinforced plastic housing
End clip is easily removable without tools so you can convert the clamp to a spreader
Adjustable, removable plastic risers lift your work off of the bar to eliminate marring and glue smearing
No-mar clamp faces are glue- and solvent-resistant
Clamp faces are removable to fit optional accessories like the Pivoting Jaw Faces (#51431, sold separately)
Note: Listed length represents the clamping capacity between jaws. All clamps will open to at least listed dimension, and most will open slightly more. Additional capacity can be achieved by removing the plastic anti-tip foot at the end of the bar.
(1) Bessey K-Body REVOlution Parallel Bar Clamp
More Information
Brand
Bessey
Tech Spec

Throat Depth: 3-3/4''
Clamping Force: 1,700 pounds
Clamping Capacity: Listed length represents the clamping capacity between jaws. Most clamps will open slightly wider than the listed dimension, but none will open less. Additional capacity can be achieved by removing the plastic anti-tip foot at the end of the bar