California Air Tools 365CR 5-Gallon Pressure Pot for Casting
Presses the air bubbles out of your castings for crystal clear cured results—pushes the resin into narrow mold spaces for excellent definition.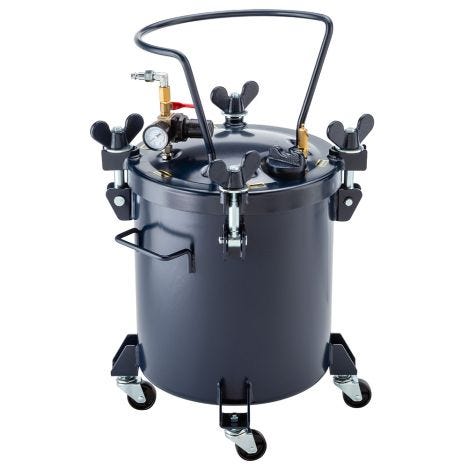 Additional Shipping and Handling Charge: $15
When it comes to casting and encapsulating, it is essential that your resin is completely free of air bubbles, which are inevitably introduced as you pour. That's where the California Air Tools 5-gallon pressure pot clamps down to ensure top-quality results. Just pour the resin into your mold, set it inside, seal the lid and connect an air compressor (sold separately) with the included standard quick coupler. Once the resin has cured, release the air and open the lid to enjoy bubble-free, void-free results.
Features:
Forces air out of the resin, and resin into thin sections of the mold for void-free, bubble-free results
Teflon-coated steel tank for easy clean up
Removable caster wheels for stability
Output regulator, on/off ball valve and pressure-relief valve
Large lid gasket and lid clamps for a leak-free seal
Maximum operating pressure is 60 psi and maximum tank pressure is 80 psi
Can accommodate a standard 5-gallon paint bucket
Requires an air compressor (sold separately)
Includes a standard quick coupler for connection to your compressor
Note: Pressure pots are not for casting soft materials like silicone—air bubbles in soft materials will return once exposed to normal air pressure. A vacuum chamber is recommended for soft materials like silicone.
(1) California Air Tools 365CR 5-Gallon Pressure Pot for Casting
(4) Caster wheels
(1) Quick coupler, 1/4'' NPT1
(1) Owner's manual
More Information
Manufacturer Part Number
CAT-365CR
Weight
47.300000
Tech Spec

Brand: California Air Tools
Manufacturer Part Number: CAT-365CR
Capacity: 5 gallons
Material: Teflon-coated steel
Maximum Operating Pressure: 60 PSI
Tank Maximum Pressure: 80 PSI
Overall Dimensions: 16''W x 24.5''H with lid
Internal Dimensions: 13''W x 14.75'' deep with lid installed
Air Inlet: 1/4'' NPT1