Alumilite Clear Slow Casting Resin
The turner's choice for producing eye-catching turning blanks that take an amazing polish—slow cure provides a full 12 minutes of open time.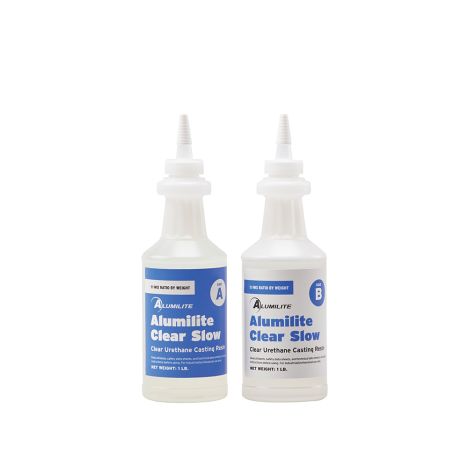 You've gotten pretty good at making pens and knives, now it's time to try your hand at making the colorful, swirling blanks that make them stand out from the crowd. It's surprisingly easy with Alumilite's crystal clear casting resin. Alumilite Clear Slow has a long 12-minute open time and a 2- to 4-hour demold time at 75°F with a 100g of resin, making it convenient to use for even larger casting and turning projects. And with our wide selection of opaque and translucent dyes (e.g. #67408, sold separately), you can mix up a blank with your customer's favorite team colors, the colors of a flag, or colors to represent a special occasion or special cause. Once cured, the resin turns like butter and polishes to a high gloss.
Features:
Impact-resistant when fully cured
Convenient 1:1 mix ratio (by weight)
Thin viscosity for easy mixing
Easily dyed or pigmented
Can be turned, drilled, sanded, and polished to a high gloss
Minimal bubbles can be achieved by slowly mixing and pouring—pressure casting is recommended for bubble-free results
Note:
The shelf life of Alumilite Clear and Water Clear is 3 months in an unopened container and we highly recommend using it within its shelf life to maintain optimum clarity and stability.
(1) Alumilite Clear Slow Casting Resin, Side A
(1) Alumilite Clear Slow Casting Resin, Side B
Note: Side B weighs more than side A, and will therefore have less material in the bottle.
More Information
Brand
Alumilite
Tech Spec

Brand: Alumilite
Product: Alumilite Clear Slow
Color: Clear
Mix Ratio: 1:1 by weight
Pot Life: 12 minutes
Demold Time (75°F; 100 gram mass): 2-4 hours
Mixed Viscosity (cps): 400
Specific Gravity: 1.04
Shore Hardness (ASTM D2240): 80 D
Shrinkage (in./in.): .005
Tensile Strength (ASTM D638, psi): 3,120
Elongation (in./in.): 30-40%
Temperature Resistance: 140° F