CastFX Dry Metallic Pigment for Epoxy, 45g
Make your epoxy projects pop with shimmering pearlescent effects—mixes directly into System Three® epoxy resins.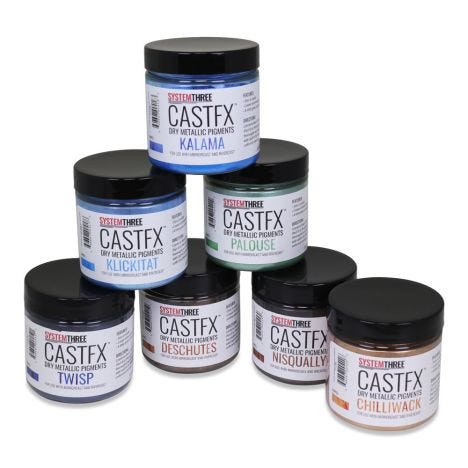 Create shimmering pearlescent effects by mixing CastFX Dry Metallic Pigments directly into System Three® RiverCast, MirrorCast, and MirrorCoat epoxy resins. Different colors can be easily intermixed with one another to create custom colors, and they can also be mixed with CastFX Liquid Colorants (sold separately) for an even wider range of effects.
Features:
Pigment powders stir easily into System Three® casting resins
A little goes a long way—plenty of bang for your buck
Metallic look produces shimmering, iridescent effects
Compatible with epoxy, waterborne and solvent based coatings*
*Note: Though designed for System Three® products, CastFX is compatible with most epoxy systems. Be sure to pre-test to ensure results meet your expectations.
(1) 45g Container of CastFX Dry Metallic Pigment for Epoxy
More Information
Brand
System Three
Tech Spec

Net Weight: 45g
Cleanup: Wash hand and other surfaces with warm, soapy water