Easy Wood Tools PT150 Mid-Size Easy Parting Tool, 1/8''
New design allows improved side cutting and undercutting techniques—carbide parting cutter is easily replaceable with the included hex key.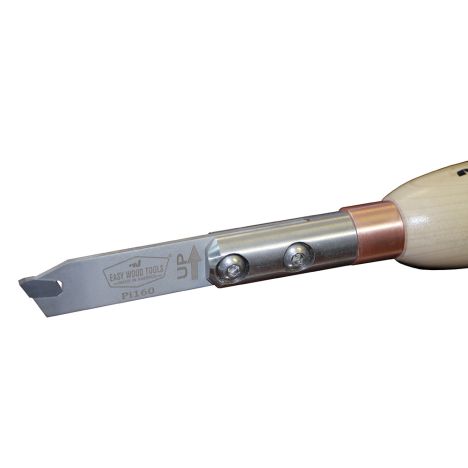 The PT150 Parting Tool is the second generation of replaceable carbide insert parting tools from Easy Wood Tools. The new design allows more flexibility for side cutting and undercutting techniques. Offered here in the mid-size version, it has a sturdy 14'' hard sugar maple handle and an attractive copper ferrule. The cutter is secured in place with two hex head screws, while the wide tool bar offers rigidity and unmatched comfort, with no sharp edges on the corners. The EWT carbide cutters shave wood much more cleanly and stay sharp longer than HSS tools. Made in USA.
Features:
When the cutter eventually dulls, just remove and replace with the included hex key
Engineered to cut flat and level like other Easy Wood Tools (you can also rub the bevel if you wish)
Handles are finished with an 8-step spray process, then hand-rubbed for a shine and beauty that will last
Easy Grip handles with two-position grips for comfort and stability
Solid copper ferrules add strength and beauty
Note: Only accepts the 2nd generation Pi160 replacement cutter (#65265, sold separately).
Permanently mounted carbide cutter on an easy-to-replace stainless steel blade. Negative rake for smooth, clean parting in all materials. High grade carbide for clean cuts and exceptional longevity. All EWT carbide cutters are made in the USA.
Features:
For use with the 1/8'' Easy Parting Tool
Easily replaceable with two hex screws
Solid carbide for a durable edge
Note: Fits only the 2nd generation PT150 Parting Tool (#64553, sold separately).
More Information
Brand
Easy Wood Tools
Tech Spec

Handle: 14'' Maple
Tool Bar Overall: 3/8'' x 6''
Blade Width: 3/32''
Blade Length: 2-1/2''
Cut Width: 1/8''
Overall length: 19''
Max Part-Off Diameter: 5''