Rockler F-Style Clamp Rack
Steel wall rack stores up to 15 light- to medium-duty F-clamps—see our Parallel Clamp Rack (sold separately) if you need to store heavy-duty F-clamps.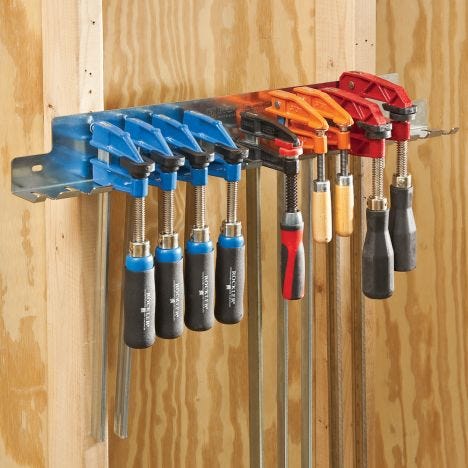 A compact solution to a sprawling problem! Our galvanized steel F-Style Clamp Rack herds up to fifteen F-clamps together and mounts them firmly to the wall or to the Pack Rack (sold separately). Your clamps will always be where you need them when you need them, and the slim rack packs the maximum number of clamps into the minimum volume of space.
Features:
Pre-drilled holes 16'' on center for easy mounting to wall studs
Slotted holes line up with the Pack Rack
Constructed of sturdy galvanized steel for a lifetime of service
24-3/8'' overall length, with slots for fifteen clamps
Clamp slots measure 0.30'' wide
Spacers between clamp storage slots are 1.33'' wide
Note: Measure the thickness of the bar on your clamp to ensure that it will fit. The bar thickness must not exceed 0.30''. If your bars exceed 0.30'', our Parallel Clamp Rack (#38498, sold separately) is a better choice.
(1) Rockler F-Style Clamp Rack
More Information
Brand
Rockler
Manufacturer Part Number
29501189 REV 1
Weight
2.550000
Tech Spec

Material: Galvanized steel
Length: 24-3/8''
Slot Width: 0.30'' (just under 5/16'')
Slot Spacing (center-to-center): 1-5/8''
Depth of Tray (before upward bend): 2-1/16''

Capacity
15 Slots
Type
F-Style
Length
24-3/8"