General Finishes Arm-R-Seal Urethane Top Coat, Gloss
Wipe on with a cloth or apply with a foam brush for a hard, durable high-gloss topcoat.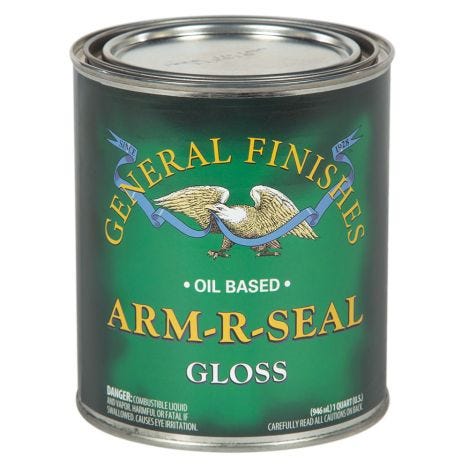 Arm-R-Seal topcoats are made with only the highest quality urethane resin, making them extremely durable and long lasting.
Features:
Formulated to be wiped on with a cloth or applied with a foam brush, eliminating drips and sags.
Penetrates to provide protection and a natural look.
Gallon sizes come in convenient jug instead of a can.
Choose from Satin, Semi-Gloss and Gloss.
Available in Pint, Quart and Gallon sizes.
(1) General Finishes Arm-R-Seal Urethane Topcoat-Gloss
More Information
Brand
General Finishes
Tech Spec

Coats: Normally 3
Cure Time: 2 Weeks for optimal water resistance
Suggested Application: Natural bristle brush, foam brush, wipe on, spray or pad applicator
Suggested Surface Prep: Clean, bare wood sanded with 150 or 180 grit paper.
Clean-up: Mineral spirits

Dry Time
24 hrs
Finish
Gloss
Color
Clear
Size
Gallon, Pint, Quart