Vertical Mount Frameless Murphy Bed Hardware
The perfect wall bed hardware for guest beds, small rooms, dorms and apartments!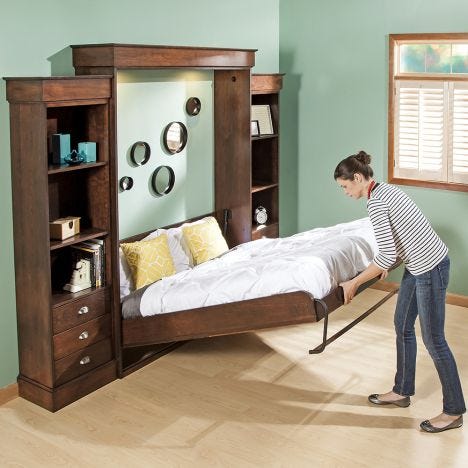 These Frameless Murphy Bed Kits include all of the necessary hardware included in our standard kit plus a pair of folding metal legs that support the end of the bed when it's folded out, and tuck neatly inside the bed when stored. One tug is all it takes, and the bed folds out smoothly and silently on state-of-the-art gas pistons. The folding bed hardware is finely engineered, counterbalanced for smooth operation without binding or overextending, and uses a sophisticated piston lift system rather than old-fashioned springs that can break and slacken over time. The beds are held securely closed, and open gently for safety. Steel pivot pin and bracket points install easily without adjustments. Includes instructions for basic cabinet construction and instructional DVD. Hardware available in Twin, Full or Queen sizes. For horizontal applications, see our Side Mount Deluxe Murphy Bed kits.
Features:
Deluxe Murphy Bed Hardware Kits include folding tube legs, which are totally concealed inside the bed cabinet when it is closed and are manually rotated over the end of the bed face panel when it is lowered out of the cabinet.
State of the art piston lift system and counter balancing ensure smooth operation.
Kit includes step by step instructions for building a basic cabinet and mounting the hardware. Additional plan for bookcase (pictured) is sold separately.
No floor mounting required; Cabinet must be anchored to the wall to ensure safety.
Cabinet can be made of plycore, particle board or solid wood.
Recommended for standard mattress sizes; no box spring is used.
Can accommodate for sleeping up to 1,000 lbs
(1) Vertical Mount Frameless Murphy Bed Hardware Kit in either twin, full, or queen size
(Lumber, Mattress, and additional finishing or construction hardware not included)
More Information
Weight
11.620000
Tech Spec

Twin (#47002): 82-1/8"H x 44-7/8"W x 15-7/8"D (closed) x 83"D (open)
Full (#46025): 82-1/8"H x 59-7/8"W x 15-7/8"D (closed) x 83"D (open)
Queen (#43707): 87-1/8"H x 65-7/8"W x 15-7/8"D (closed) x 87"D (open)
Hardware kits carry a 10-Year Limited Warranty
Maximum mattress thickness: 12"