Hidden Control Arm for Shutter Louvers
Thin stainless steel strips mount to the ends of the louvers for an unobstructed view out the window when opened.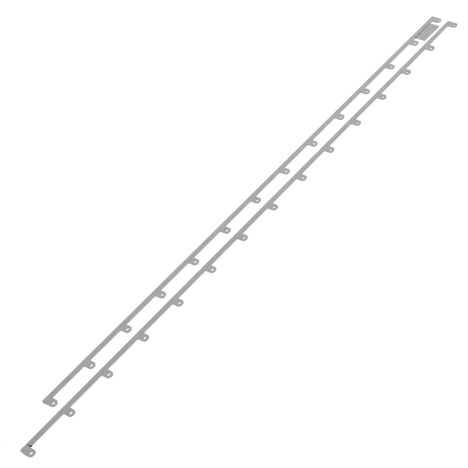 Get the clearest possible view from your louvered shutters by building them with hidden control arms instead of the traditional center-mounted control arms. These thin stainless steel strips are mounted to the ends of the louvers, which tucks them neatly out of sight for maximum visibility when the louvers are opened. Made from stainless steel, which is unaffected by window condensation and moisture.
Hidden Control Arm Details:
Tucks the control arm to the side, near the shutter frame, for better visibility out the window
Two pieces splice together to form a single 54-5/8'' long arm that can be cut to fit
Stainless steel material is unaffected by window condensation and moisture
Works in tandem with our Hidden Control Arm Jig Kit (#45143, sold separately) and Rockler Shutter System Templates
To install, drill 1.2mm pilot holes in the ends of the louvers, then drive Stainless Steel Nails (#45400, sold separately)
Choose from two models: for 2-1/2'' louvers, or for 3-1/2'' louvers
(2) Halves of one Hidden Control Arm (choose 2-1/2'' or 3-1/2'' louver size)
More Information
Tech Spec

Brand: Rockler Innovation
Material: 18 gauge stainless steel
Assembled Length: 54-5/8'' total (2 pieces spliced)
Louver Count (2-1/2'' model): Controls 28 louvers
Louver Count (3-1/2'' model): Controls 19 louvers