I-Semble Heavy-Duty Blind Shelf Supports
Create shelves that appear to float on the wall—one pair supports up to 125 pounds!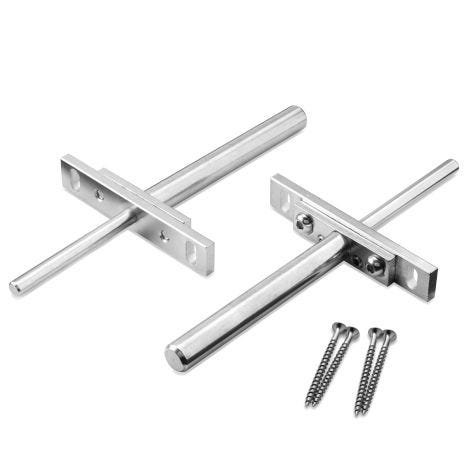 Gain practical storage space while maintaining a clean, modern look. Once installed, these concealed shelf supports are completely hidden from view, creating the illusion of a floating shelf. They are made of sturdy metal with thick posts, and are securely screwed to wall studs for a weight capacity of up to 125 pounds per pair of supports. Shelves should be a minimum of 18'' long in order to span two studs. One pair of brackets can support a shelf up to 48'' long. If you need a longer shelf, just add additional brackets.
Features:
Height adjustment slots let you level the shelf if your initial holes are slightly off
Tilt adjustment screws ensure that the shelf projects from the wall at 90°
All hardware is provided, including mounting screws—you provide the wall space and the shelf
(2) I-Semble Heavy-Duty Blind Shelf Supports
More Information
Brand
I-Semble
Manufacturer Part Number
RKLR-HDSS-01Z
Weight
1.300000
Tech Spec

Support Arm Projection: 4-1/4'' (11 cm)
Support Arm Diameter: 9/16'' (14mm) nominal
Drill Bits Required: 21/64'' (Item #54702) for rear post; 9/16'' or 14mm (see Item #56029) for shelf post
Wall Bracket Dimensions: 11/16''H x 4''L x 1/2'' thick (total thickness with both front and rear brackets)
Minimum Shelf Thickness: 1'' (to entirely conceal the hardware)
Maximum Shelf Thickness: 1-1/4'' (shelf may be thicker, but thicker shelves will reduce weight capacity)
Minimum Shelf Length: 18'' (to span two studs)
Maximum Shelf Length: 48'' (using two supports; additional supports can be added for longer shelves)
Minimum Shelf Projection: 4-3/4'' (supports may be cut for shallower shelves)
Maximum Shelf Projection: 14''
Weight Capacity: 125 lbs/pair of supports