Inlace Acrylester Damascus Pack Pen Blank 5-Pack
Made from optical grade resin for incredible depth and shimmer—includes 5 blanks in a range of vivid colors!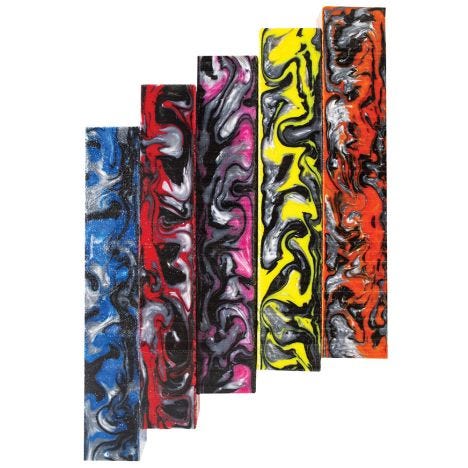 Inlace Acrylester is a polyester-based material that exhibits a shimmering pearlescent quality when viewed in the light. It is available in a huge variety of colors, each with a unique pattern and remarkable visual depth. This 5-pack, the ''Damascus Pack,'' includes blue, red, pink, yellow and orange blanks, each interspersed with swirls of black and silver. Inlace Acrylester is made from an optical grade of resin, which makes it visually superior to acrylic. It is slightly more challenging to turn, but the results are well worth it. It can be polished to a gleaming finish.
Inlace Acrylester Damascus Pack Pen Blank 5-Pack
(1) Blue Inlace Acrylester Pen Blank
(1) Red Inlace Acrylester Pen Blank
(1) Pink Inlace Acrylester Pen Blank
(1) Yellow Inlace Acrylester Pen Blank
(1) Orange Inlace Acrylester Pen Blank
More Information
Manufacturer Part Number
PBIAPACK02
Weight
0.850000
Tech Spec

Brand: Woodturningz
Overall Dimensions: 3/4'' x 3/4'' x 5''
Material: Inlace Acrylester
Colors: Blue, red, pink, yellow and orange, all with swirls of black and silver