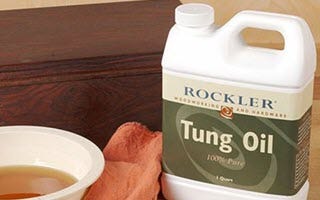 Some wood finishes excel at one thing, others at something else, and to get the effect you want, you sometimes have to use more than one. A Woodworker's Journal reader asks whether it's advisable to put a tougher protective coating over a grain-popping tung oil finish.
Woodworking Question: I am making two kitchen tables: one out of red oak, the other out of hard maple. I want the natural wood look with low gloss, so I plan on rubbing in quite a few coats of tung oil finish. But to stand up to everyday wear, I wonder if should put something on after the tung oil, like clear polyurethane, or will the tung oil be sufficient? I don't mind a slightly aged look, but I don't want water damage from spills and glasses.
Our Experts Weigh In
Woodworking Expert - Michael Dresdner: "Yes, I would put a coat or two of oil-based polyurethane on for more durability, and it is fully compatible over the dried tung oil (or linseed oil, or any other drying oil for that matter.) In fact, you can apply it in much the same way as you did the oil -- scrub it on with fine Scotchbrite, then wipe it off. That will leave a thin coat that will maintain the look you want with no drips or brush marks. Add at least three coats, at one coat per day. If it starts to wear down the road a few years, add extra coats the same way."
Woodworking Expert - Lee Grindinger: "You'll get there eventually if you keep applying the tung oil finish. Tung oil finish is varnish, highly thinned varnish, so your coats are very thin and you'll need very many. If you want a faster build use a regular varnish and brush or spray it on. There are still many varnish formulations that use tung oil. To keep the sheen low use satin or eggshell. Plan on rubbing the surface out with steel wool or rubbing compound to remove the nibs."
You may be wondering about Lee Grindinger's comment: "tung oil finish is varnish". The important word in the statement is "finish". Tung oil finishes are usually blends of tung oil, resins and other oils. They are designed to incorporate the desirable properties of tung oil – easy application and its characteristic grain enhancing effect – into a mixture that dries quicker and provides a tougher finish. Minwax Tung Oil Finish is a good example. Rockler's Tung Oil, on the other hand, is not a "tung oil finish"; it's the real thing – 100 percent pure tung oil.
Tung oil is one of the most water resistant of cuing oils and has a centuries-long history of use as a final finish. Still, it's no match for modern varnish in terms of durability. For any surface that's going to see a fair amount of use, a tougher top coat is highly recommended. For a kitchen table, any resin varnish would be an improvement over a final finish of curing oil, but it's possible to do even better than that. Either General Finishes Arm-R-Seal, if you prefer a wipe on finish, or Rockhard Table Top Varnish, a brush-on finish, will offer superior durability and lasting protection against the not-so wood friendly kitchen environment.