Magswitch Drill Press Fence Pro
Powerful switchable magnets allow easy positioning and removal of both fence and stop—fits medium- to large-sized drill presses.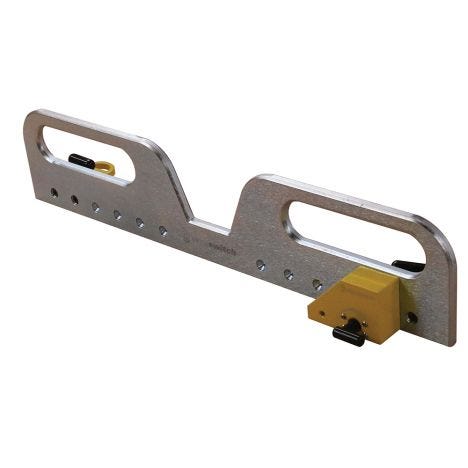 With the Magswitch Drill Press Fence, you get easy positioning of the fence with a quick turn of one or both magnetic switches. Best of all, if you need to remove the fence, a common requirement for large work, it's every bit as easy. Just rotate the magnetic switches and remove the fence—there is no need to unscrew any lengthy bolts. The fence includes a magnetic stop block that can be positioned anywhere along the face. Fence face measures 21'' long x 4-5/16'' high—a perfect fit for medium- to large-sized drill presses. The generous height also allows use as a bandsaw resaw fence.
Features:
Powerful magnets allow quick positioning, fine adjustments, and make it easy to remove and store when not needed
Mounting magnets can be positioned at different points on the fence for optimal placement on various drill press tables
Vertical face has a center cutout to prevent interference with the drill chuck, generous height allows use as a bandsaw resaw fence
Stop block can be quickly positioned flush with the drill press table or sacrificial material under the workpiece, and stores on the back when not needed
Fence face measure 21'' long x 4-5/16'' high
Magswitch Drill Press Fence Pro
(1) Pro fence plate
(2) Fence plate magnets
(1) Magnetic stop block
(1) Replacement rubber gasket for fence magnets
More Information
Brand
Magswitch
Manufacturer Part Number
81101371
Weight
9.000000
Tech Spec
Tech Specs:

Brand: Magswitch
Manufacturer Part Number: 81101371
Fence Face Dimensions: 21'' long x 4-5/16'' high
Maximum Breakaway Force: 291.01 lbs / 132 kg
Maximum Shear: 41.89 lbs / 19 kg
Full Saturation Thickness: 0.24'' / 6 mm
Overall Height (Max): 4.29'' / 109 mm
Overall Length: 21'' / 533.4 mm
Overall Width: 2.72'' / 69.15 mm
Net Weight: 8.38 lbs / 3.8 kg
Magnetic Pole Footprint: 1.57 x 1.22 (2x)'' / 40 x 31 (2x) mm