Achieve pours from 2'' to 3'' thick with Deep Pour X, a low-viscosity casting epoxy with an extra-slow cure time.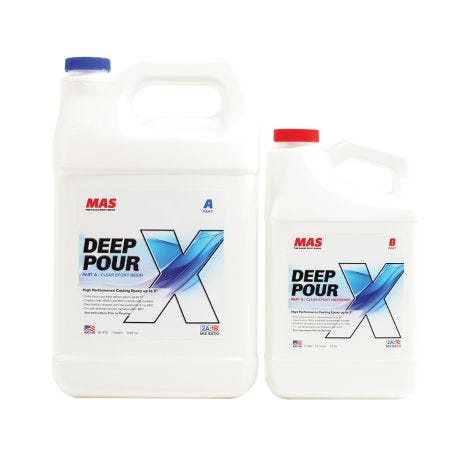 Deep Pour X is a high-performance epoxy casting system formulated with an extra-slow cure time that allows pours from 2'' to 3'' deep (subject to multiple variables, consult the instructions for more info). Even thicker castings can be achieved with multiple pours. It's perfect for creating castings like live edge river tables, ocean tables and encapsulations, where it cures to a clear, glass-like finish. The system is extremely durable, with excellent air release for minimal air bubbles, low exotherm, 100% solids and no VOCs.
Important Notes:
Maintain material and shop temperatures between 60°F to 80°F throughout casting process; cooler is better
Specifically designed for thicker pours, with a minimum recommended casting depth of 2'' (subject to conditions)
3'' pours cure in 24-36 hrs at 70°F. Pours 2'' or less can take up to 72 hrs to cure at 70°F (mass and temperature sensitive)
Prior to use, it is recommended that you seal any wood or porous surfaces with Penetrating Epoxy Sealer (#60727, sold separately) to reduce the risk of air bubbles and foam
Do not apply oil-based stains to surface prior to applying epoxy—surface imperfections and adhesion issues will result
Read full instructions before use
CAUTION EXOTHERMIC REACTION: Mixed epoxy generates heat. The more you mix, the hotter it will be. Must use after mixing. Only mix what you are ready to pour. May fume and smoke. Please visit the online FAQ before starting your project.
(1) MAS Deep Pour X Epoxy Kit
More Information
Brand
MAS Epoxies
Tech Spec

Mix Ratio: 2A:1B
Maximum Casting Thickness: 3'' at 70°F (see instructions for details)
Minimum Recommended Casting Thickness: 2'' (see instructions for details)
Cure Time: 24-36 hours
Color: Clear