Odie's Wood Butter, 9 oz.
Used like a soft wax to enhance luster and durability with just one coat—100% non-toxic!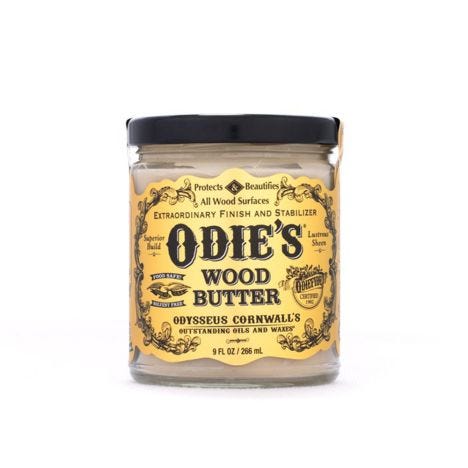 Shipping Restrictions: Ground Transportation Only.

Odie's Wood Butter is a high concentration of Odie's Oil and can be used in all the same applications, enhancing luster and durability with just one coat. It is used like a soft wax, and is particularly well-suited for problematic woods that are prone to checking and for oily or exotic woods that otherwise have difficulty absorbing finish. Like Odie's Oil, Odie's Wood Butter is food-safe, solvent-free, and completely non-toxic. It can be used alone or in conjunction with any combination of other Odie's oil finishing products. Made in USA.
Features:
Easy one-coat coverage
Solvent-free, non-toxic and food-safe
A little goes a long way—with no solvents to evaporate, what you put on the wood stays there
Stabilizes wood and minimizes checking on woods with high moisture content
Use on all wood surfaces and in combination with other Odie's oil finishes
Works great as a friction polish and for reviving old finishes
Excellent for both interior and exterior applications
Made by hand in small batches to ensure quality
What are Odie's Finishing Products Made From?
Odie's finishing products use the finest oils and waxes produced by nature to protect your wood surfaces. These oils and waxes evolved in nature to protect plants from the constant bombardment of the elements, insects, fungi and other organisms. The oils and waxes in Odie's Oil are at home in wood because wood is where they originally evolved. Odie's Oil brings you the best of nature, today's technology, and the time-tested knowledge of the ancient masters.
(1) 9 oz. Jar of Odie's Wood Butter
More Information

| | |
| --- | --- |
| Brand | Odie's |
| Weight | 0.900000 |
| Use | Interior |