Rockler 1'' x 15' Band Clamp with Accessory Kit
Exerts uniform pressure on a wide variety of hard-to-clamp objects—included accessory kit provides neat strap storage and no-mar protection.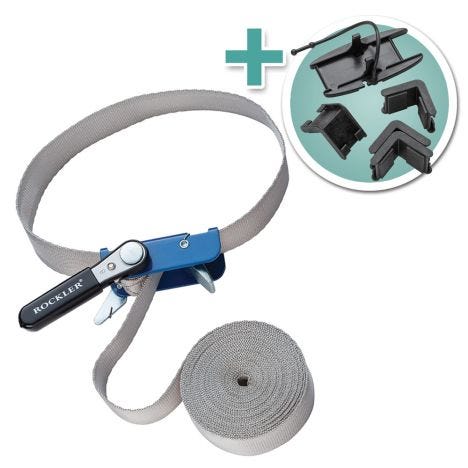 NOT for use as a tie-down or for securing loads. For clamping purposes only.

Our improved ratcheting band clamp features a longer, more durable band and a new ratcheting handle that is permanently attached so it can't be misplaced. In addition, The strap is stitched to the ratchet post and the improved clamp mechanism further reduces the chance of slippage. Use it in any situation where even, inward pressure must be exerted to prevent joining surfaces from sliding against each other: chair frames, mitered frames, coopered barrels, multi-sided objects and more.
Features:
Reinforced webbing with a herringbone weave for strength and durability
Nylon material won't stretch under tension
Band is stitched to the post so it won't come loose under pressure
Permanently attached ratchet mechanism is always ready for use
Package includes the Band Clamp Accessory Kit for neat strap storage, no-mar protection, and easier clamping of rectangular objects!
Plastic boot slips over the ratcheting mechanism to help align the nylon band when you roll it up. Includes a rubber retainer strap that holds the band in a neat folded position when in storage. The boot has a foam pad that protects your workpiece from the metal parts on the clamp mechanism. Kit also includes four corner brackets that let you clamp rectangular objects more easily, and help to prevent glue from soiling the nylon strap.
(1) Rockler 1'' x 15' Band Clamp
(1) Rubber Band Retainer/No-Mar Pad
(4) 90° Corner Clamping Cauls
More Information
Brand
Rockler
Weight
1.050000
Tech Spec

Strap Width: 1''
Strap Length: 15'
Strap Material: Nylon
Retainer Material: Plastic/Rubber
Corner Bracket Material: Plastic