Rockler 7-Piece Epoxy/Resin Mixing Set
All the mixing tools you need for combining resins, pigments and other casting materials—all tools clean up easily for repeated reuse.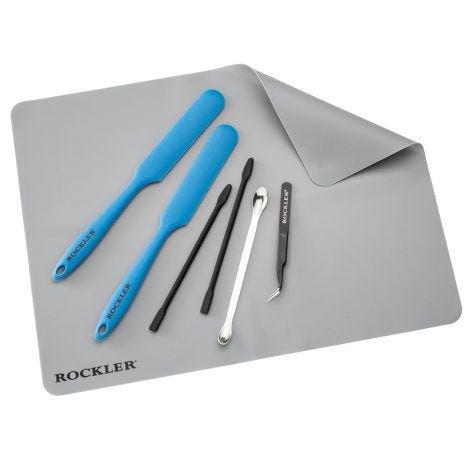 When preparing to mix up a batch of epoxy for a big pour, it's important to have everything you need close at hand when the clock starts ticking. Our 7-Piece epoxy mixing set provides just that: one kit with all the mixing tools you need, plus a handy silicone mat to contain any mess. The stirring sticks, both large and small, are all made of 100% silicone, which easily sheds cured epoxy. Also included are a set of tweezers for embedding items like gold foil in your epoxy castings, and also a double-ended spoon for measuring out pigments and other mix-ins.
Epoxy Mixing Tools Details:
Silicone spatulas, stir sticks and mat won't bond to resin—epoxy peels away, allowing easy reuse
Large silicone spatulas function as both stir sticks and scrapers—rigid handles allow mixing of high-viscosity resins
Smaller silicone stir sticks feature different head shapes for mixing, scraping or coaxing resin into corners
Tweezers are great for positioning solid objects in resin for custom castings
Double-headed steel spoon is great for measuring pigment powders—the steel won't stain
11-13/16'' x 15-3/4'' silicone mat helps keep epoxy off your work surface and cleans up easily
Important: Not intended for use with food
Rockler® 7-Piece Epoxy/Resin Mixing Set
(1) Silicone mat
(2) Large Silicone Stir Sticks/Spatulas
(2) Silicone Stir Sticks
(1) Tweezers
(1) Double-Headed Spoon
More Information
Brand
Rockler
Weight
0.650000
Tech Spec

Silicone Mat Dimensions: 11-13/16'' x 15-3/4''
Large Spatula Length: 9-1/2''
Large Spatula Width: 1''
Small Stir Stick Length: 6-1/4''
Tweezer Length: 4-3/4''
Double-Ended Spoon Length: 6-1/4''