Rockler Bench Cookie Plus Work Grippers, 4-Pack with 2-Pack Risers
Keeps your work from skidding around as you sand and rout — included Risers slip into any 3/4'' hole for even more stability, or connect 2 Cookies for added height.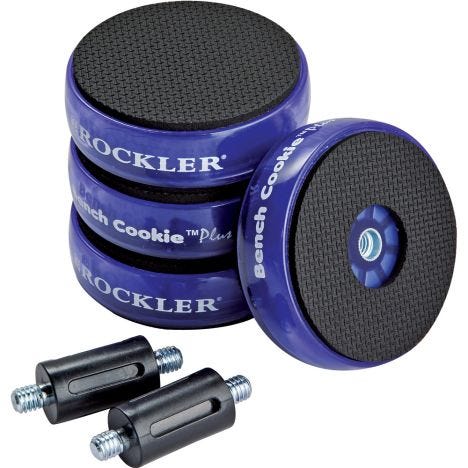 This kit bundles a 4-Pack of our exclusive Bench Cookie® Plus Work Grippers with two Standard Risers. Standard risers allow the Cookies to be secured in a 3/4'' dog hole, or a 3/4'' hole drilled into a sawhorse or other fixture. They can also be sandwiched between two Bench Cookie® Plus Work Grippers for a total height equivalent to three Cookies, great for when more clearance is needed.

Bench Cookie® Plus:
Prevents work from skidding around as you sand and rout
Rout, sand, cut and carve without using clamps
Raises your work for better access to the edges and corners
No-mar material supports projects without leaving marks
5/16-18 threaded insert accepts standard and XL Risers
Standard Risers:
Posts fit into any 3/4'' dog hole or drilled hole, providing a firm anchor point
Threaded stud on both ends lets you sandwich two Cookies together for when additional clearance is needed
(4) Rockler® Bench Cookie® Plus Work Grippers
(2) Standard Risers
More Information
Brand
Rockler
Tech Spec

Cookie Diameter: 3''
Cookie Height: 1''
Cookie Material: Polymer/composite
Riser Length (without studs): 1-3/16''
Effective Riser Height (added height between 2 cookies): 1''
Riser Diameter (nominal): 3/4''
Stud Threading: 5/16-18