Rockler Clamp-It Small Corner Clamping Jig, 2-Pack
Holds thin pieces at a precise right angle while the glue cures—also great for holding the joint closed while you drive fasteners.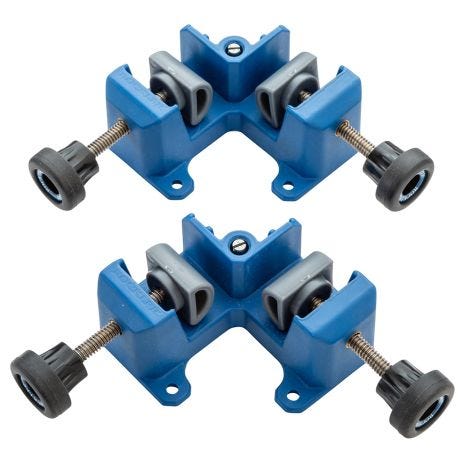 Our Small Corner Clamping Jigs hold thin boards at a perfect right angle, helping you achieve tight corners with minimal fuss. You can use them to clamp glued miters (with no fasteners), or as third hands to hold the joint closed while you drive brads or pins. They hold material from 1/4'' to 1/2'' thick—great for building drawer boxes, jewelry boxes and other small decorative boxes. Each has a bolt that can be lowered from the base for mounting in a T-track. Screw holes allow mounting to fixtures. Rubber pads on the bottom grip the benchtop. Firm yet flexible clamp pads provide a secure hold without marring.
Features:
Holds material from 1/4'' to 1/2'' thick
Clamp pads are rigid enough for a secure hold, yet flexible enough not to mar your material
Mounting holes in base allow jigs to be screwed securely to a worktop
Bolt can be lowered from base using the integral screw for mounting in a T-Track table
Comfortable knobs with rubber overmolds
Base lifts material 1/2'' off surface—use scrap 1/2'' stock to provide support if needed
Note: Not compatible with the Rockler Mini Clamp-It Assembly Square (#27767, sold separately), nor is a separate square necessary.
(2) Rockler Clamp-It Small Corner Clamping Jigs
More Information
Brand
Rockler
Weight
0.700000
Tech Spec

Brand: Rockler Innovation
Compatible Material Thickness: 1/4'' to 1/2''
Minimum Box Size (with single jig): 1-3/4'' x 1-3/4'' using 1/4'' material
Minimum Box Size (with two jigs): 3-1/4'' x 3-1/4'' using 1/4'' material