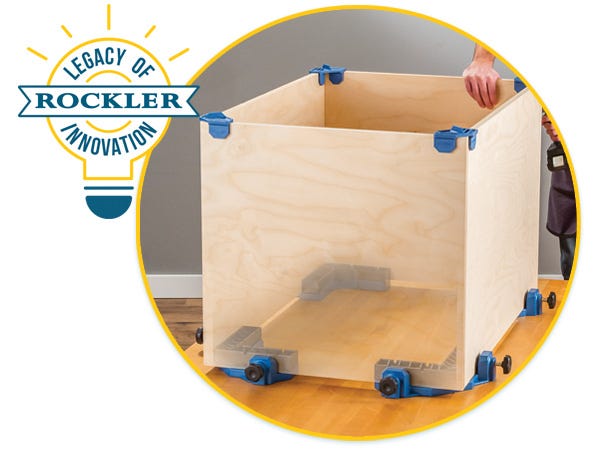 One of the most important factors when assembling cabinets is to make sure the case pieces are square to each other. And, assembling cabinets can be a challenge when you're working alone. Learn how the Rockler Clamp-It Corner Jigs and Corner Clips are like extra sets of hands that make it easier to assemble perpendicular cabinet and box corners. The Rockler Clamp-It System firmly holds panels at a precise right angle, freeing up your hands so you can drive fasteners.
Rockler Clamp-It Corner Clamps and Clips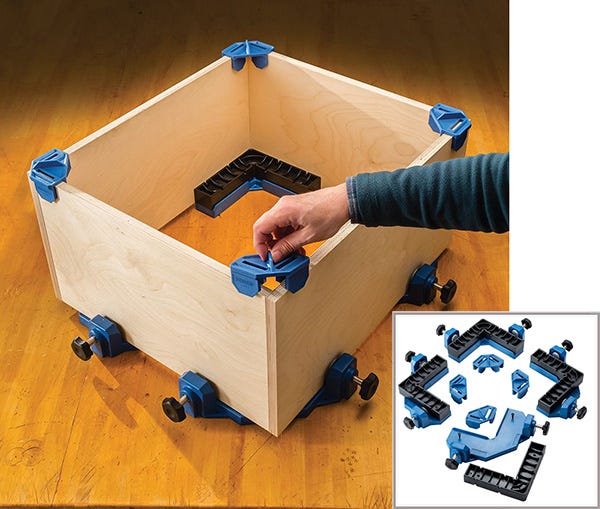 The Clamp-It Cabinetmaker's Bundle includes eight extra ''hands'', or four Rockler Clamp-It Corner Clamping Jigs and four Rockler Clamp-It Clips to hold your parts together. With a full set of four jigs and four clips, they'll hold an entire case firmly together as you drive the fasteners. The clamps have soft pads to prevent workpiece marring, and can even be attached to a board for repeated assemblies of the same size. On sale now! Shop the Clamp-It Cabinetmaker's Bundle.
Clamp-It Assembly Squares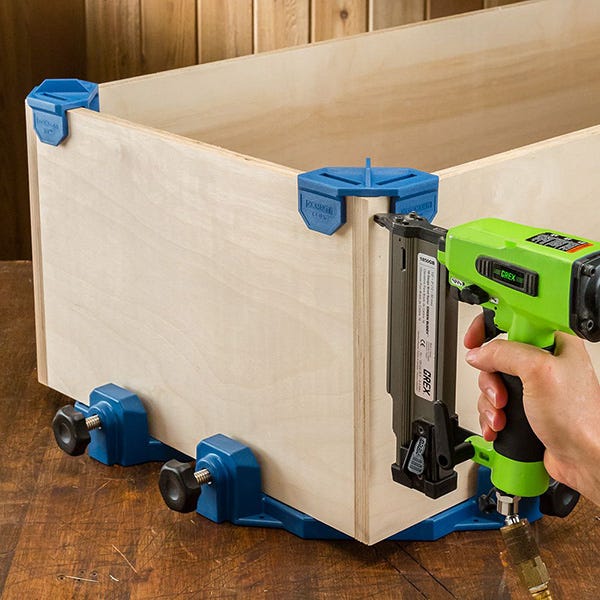 Rockler Clamp-It Clips slip over the top edges of any two panels, holding them at a 90° angle while you drive the nails or screws. They are available for two stock thicknesses: 1/2'' and 3/4''. The 1/2'' Clips are useful for drawer and small box construction, and also for cabinets with thinner 1/2'' casework, while the 3/4'' clips are ideal for cabinet construction with typical 3/4'' panel stock. For larger open cabinets and boxes, use the Rockler Clamp-It Corner Clamping Jig to secure the bottom corner, and to prevent the panels from tipping.
Clamp-It Small Corner Clamping Jig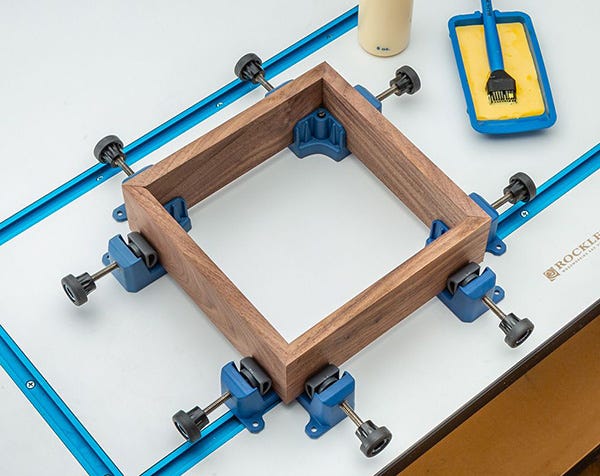 The Small Corner Clamping Jigs hold thin boards at a perfect right angle, helping you achieve tight corners with minimal fuss. You can use them to clamp glued miters (with no fasteners), or as third hands to hold the joint closed while you drive brads or pins. They hold material from 1/4'' to 1/2'' thick—great for building drawer boxes, jewelry boxes and other small decorative boxes. Each has a bolt that can be lowered from the base for mounting in a T-track. Screw holes allow mounting to fixtures. Rubber pads on the bottom grip the benchtop.
Clamp-It Assembly Squares

The Clamp-It® Assembly Square can be used with the Clamp-It Corner Clamping Jig(left) or on it's own with clamps (center). There is also anAdjustable Clamp-It® Assembly Square (right) that can rotate from 45 degrees to 315 degrees to help clamp almost any angle.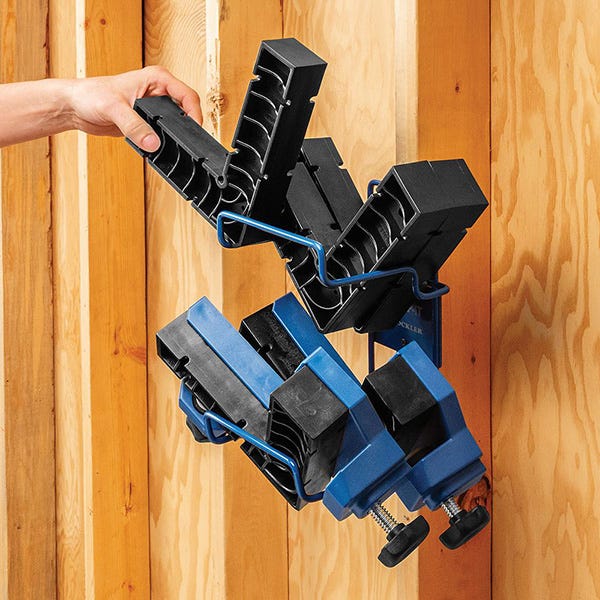 The Clamp-It Storage Bracket gives you a convenient place to store your Clamp-It Jigs and Clips. Mount the rack to the wall where you use your Clamp-Its most, or to a workbench, assembly table or tool cart. With a Clamp-It always within arm's reach, your assemblies will go more quickly and more smoothly, with less mess and less stress.