Rockler Ice Cream Paddle Turning Kit
Paddle style for added leverage and cutting power—shallow contour lets you empty it by scraping against the edge of a bowl.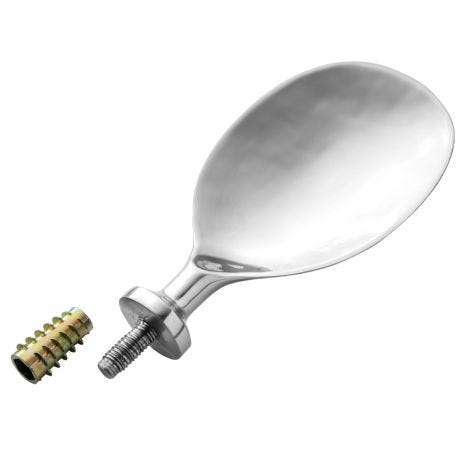 Current Price:
$
21
.
24
Each
Original Price:
$24.99
Each
Our exclusive Ice Cream Paddle has the leverage and broad cutting edge to cut through the coldest cream. Sometimes called an ice cream spade, ice cream paddles have a shallower contour that allows you to empty the ice cream by scraping it against the edge of your bowl or dish. While ball-type scoops are great for filling cones, spades are perfect for filling bowls or for serving ice cream over a hot slice of pie without it rolling off onto the plate or floor. You can also use the back of the paddle for smoothing ice cream cakes and other delectable deserts. Made from stainless steel for maximum corrosion-resistance. Boasts a fine polish. Turn your own handle on the lathe for a customized gift, or keep it for your own kitchen. Turning blank not included.
Features:
Includes a 5/16-18 threaded insert—simply drill a hole in your blank, thread in the insert, and thread the scoop onto the turned handle
Easily disassembled for cleaning or to swap the handle
Made from stainless steel for the ultimate in corrosion resistance
For the handle, we recommend a strong hardwood such as maple, cherry, walnut, oak, or yellow birch. Of the imported hardwoods bubinga, purpleheart, gongola alves and cocobolo make wonderful handles
(1) Rockler Ice Cream Paddle with Threaded Stud
(1) 5/16-18 Threaded Insert
More Information
Brand
Rockler
Weight
0.600000
Tech Spec

Material: 304 Stainless Steel
Width: 2-5/8'' (paddle)
Length: 5'' (without threaded stud/handle)
Recommended Blank Size: 1-1/2'' x 1-1/2'' x 6''