Rockler Mini Deluxe Panel Clamps, 2-Pack
Scaled-down versions of our larger clamps, featuring rigid steel cauls that sandwich your panel to keep it flat!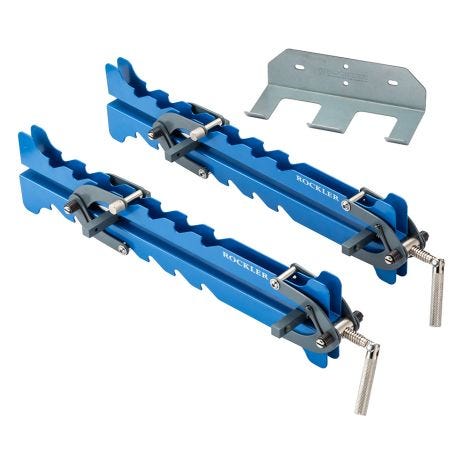 Our Mini Deluxe Panel Clamps bring you all the benefits of our popular larger clamps, but in a smaller package optimized for scaled-down projects like cutting boards, small- to medium-sized panel glue-ups and assembling frame-and-panel doors. They're built to the same rugged specifications, from thick steel, with scissor-action couplers that apply pressure from all sides—only the size is different. Since the clamps sandwich your panel, they force the panel flat and the joints flush, saving you loads of sanding time. There is also no need to stagger your clamps top and bottom. Use to join panels from 1/2'' to 1-1/2'' thick and up to 16'' wide.
Mini Deluxe Panel Clamp Details:
Powerful four-way pressure clamps boards being edge glued to form a perfectly flat panel—no more bowing!
Accepts panels from 1/2'' to 1-1/2'' thick and 5-1/2'' to 16'' wide—great for cutting boards and frame-and-panel door assembly
Includes two Mini Deluxe Panel Clamps, plus a convenient wall rack for hanging the clamps!
Sawtooth pattern makes it easy to adjust the clamp to fit your project
Integrated feet in rails provide clearance for easier adjustment
Rails are made from 1.8mm-thick steel with durable powder-coat finish
Headstock and tailstock assemblies also powder-coated; Acme-threaded rod and handle have zinc coating
IMPORTANT: To achieve good results, it is critical that the top and bottom pins of the tailstock jaw assembly are positioned in corresponding notches in the top and bottom rails. For example, if the top tailstock pins are in the third slot from the back of the clamp in the top rail, the bottom pins must be in the third slot from the back of the clamp in the bottom rail. This will keep the rails aligned and ensure that pressure is delivered vertically and horizontally at right angles.
Rockler Mini Deluxe Panel Clamps, 2-Pack
(2) Pairs of clamp rails
(2) Clamp headstocks with handles
(2) Clamp tailstocks
(1) Storage rack
More Information
Brand
Rockler
Weight
9.000000
Tech Spec

Clamp Rail Dimensions: 0.83'' wide x 1.7'' high x 19'' long, made from 1.8mm thick steel
Thickness Capacity: 1/2'' to 1-1/2'' thick
Panel Width Capacity: 5-1/2'' to 16'' wide