Rockler Pneumatic Clamping System
Apply instant pressure with a quick flip of the switch—convenient kits make it easy to order what you need.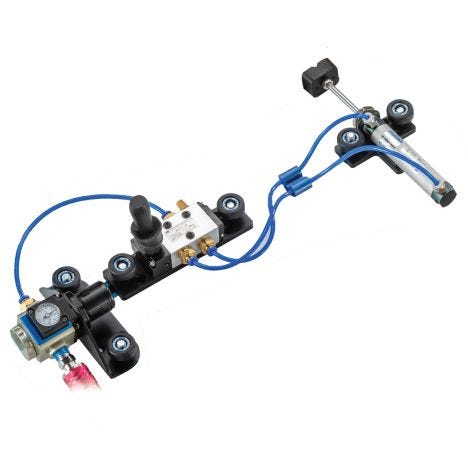 A flick of the switch is all it takes to provide strong clamping power—up to 34 pounds—with these pneumatic clamp kits. Their speed makes them ideal for repetitive clamping tasks, such as for face frame assembly, and as hold-downs or push clamps for drill presses and CNC tables. Rockler makes ordering easy with your choice of two all-in-one Starter Kits that include all the components* you need for either a vertical or horizontal clamp. You can then easily add additional clamps (up to 4 per regulator) by purchasing vertical or horizontal Expansion Kits (both types can use the same regulator and switch, at the same time). The clamps slide into standard T-track for easy adjustability, and they can also be screwed down for more permanent clamping fixtures.
Features:
Fast, powerful clamping that engages and disengages with a flick of the included switch
Ideal for repeated clamping tasks and production applications
Starter Kits include everything needed to set up a pneumatic clamp, except for the air compressor and stop to clamp against
Add Expansion Kits to run multiple clamps (up to 4) on the same switch
Cylinder brackets mount to T-Track with included T-bolts and knobs or directly to the top #8 screws (not included)
Regulator and switch brackets mount to T-Track or solid surface, as well as to Rockler Rock-Steady Shop Stand legs with 32mm-spaced holes
Regulator includes 1/4'' NPT valve for connecting to air hose
Starter Kits include 10' of 4mm tubing (Expansion Kits include 5')—cut to length to fit your application
Quick-release fittings allow fast, easy connection of tubes—just press tube in to install and press ring on fitting to release
Clamp feet thread onto cylinder stem to provide non-marring pressure
Each clamp features 50mm throw for nearly 2'' of clamping range
Four brackets for managing tubing—two snap into T-Track; two mount with #6 screws
*Note: Requires an air compressor (sold separately). Most standard portable compressors will work. Horizontal clamps also require a stop to clamp against.
Starter Kits
(1) Double-acting pneumatic clamping cylinder, 16mm bore x 50mm stroke
(1) Cylinder bracket (horizontal or vertical)
(1) Rubber clamping foot (horizontal or vertical)
(1) Regulator with bracket
(1) Switch with bracket
(6) 1'' Easy-to-Grip Round Knobs
(1) 10' roll of 4mm tubing
(2) T-track tube brackets
(2) Screw-mount tube brackets
(1) 1/4'' NPT quick-connect valve
(2) 1/4'' NPT muffler
(4) 1/4'' NPT fitting for 4mm tubing (for switch and regulator)
(2) M5 fitting with O-ring for cylinder
(6) 5/16''-18 x 3/4'' T-bolts
(3) #8-32 x 1'' machine screws
Expansion Kits
(1) Double-acting clamping cylinder, 16mm bore x 50mm stroke
(1) Cylinder bracket (horizontal or vertical)
(1) Rubber clamping foot (horizontal or vertical)
(1) 5' roll of 4mm tubing
(2) M5 T fittings with O-rings
(2) 5/16''-18 x 3/4'' T-Bolts
(2) 1'' Easy-to-Grip Round Knobs
More Information
Tech Spec

Brand: Rockler Innovation
Clamping Force: Depending on regulator setting, cylinders provide up to 34 lbs. of clamping force
Maximum # of Cylinders in Series: 4 per regulator
Clamping Foot Dimensions (Horizontal Kit Only): 1''H x 1-1/4''W
Clamp Throw: 50mm (about 2'')