Rockler 9'' Quick-Draw Marking Gauge
One quick motion lays down a nice, bold pencil line—spring-loaded pencil carriage applies pressure for one-handed use!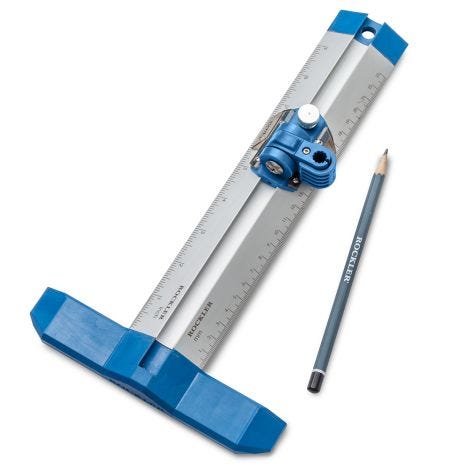 Our Quick-Draw Marking Gauge is a breeze to use with just one hand—swipe it along the edge and it leaves a bold pencil line exactly where it says it will, at up to 9'' from the edge. Unlike traditional marking gauges, the pencil line is easy to see, even in imperfect lighting. Not only that, but you can also use it as a T-square for marking lines perpendicular to the edge. Gone is the clumsy combination square, the need to clamp your work for two-handed use, the need to compensate for the depth of the pencil notch, and the squiggles caused by rocking. The Quick-Draw Marking Gauge kills all those birds in one fell swoop.
Features:
Draws precise lines up to 9'' (23cm) from the edge of your workpiece
One-handed operation: spring-loaded mechanism presses pencil down, eliminating the need for a second hand
Great for marking out mortises and grooves, or laying out holes for drawer pulls and knobs
Also works great as a T-square for marking perpendicular lines
Included No. 2 pencil is easily installed and removed without tools
Scale indicators are adjustable for pinpoint accuracy
Aluminum ruler has metric graduations on one side and imperial on the other
Non-marring low-friction tape on bottom of ruler for easy sliding
Dovetail keyway in ruler track provides easy adjustment and firm locking
Pencil stores in ruler keyway when not in use
Hang hole for storage on wall or pegboard
(1) 9'' Rockler Quick-Draw Marking Gauge
(1) Standard HB No. 2 pencil
More Information
Brand
Rockler
Weight
0.750000
Tech Spec

Manufacturer Part Number: 55120
Material: Aluminum, reinforced plastic
Ruler Length: 9'' or 23 cm