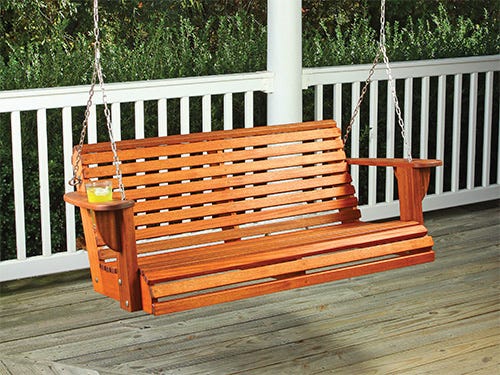 How to make a porch swing for your home. This DIY porch swing features a contoured seat and back, plus cup holders on each arm, making it the perfect place to relax and enjoy a cool drink. If you've ever built an Adirondack chair or a simple picnic table, you've got the skills you need to make one of these swings for your special outdoor getaway.

This porch swing can be hung from a porch ceiling that features a minimum of 2x6 framing rafters. If you don't have a porch, a sturdy horizontal tree limb could offer another hanging option, or you could build a freestanding framework or arbor to install the swing practically anywhere in your yard or garden. The porch swing pictured was made 4/4 African mahogany. But cedar, cypress, white oak or redwood would be other good choices, too.
This plan is one of the many project plans originally designed and built by Woodworker's Journal Magazine. It's FREE to Rockler customers. See more Woodworker's Journal Premium Plans.
Download the Porch Swing Drawings