Rockler Rock-Steady Shop Stand Kit, 32''W x 20''D x 32''H
Heavy-gauge steel and vertical holes at 32mm intervals for easy accessorizing—perfect for any of the Rockler 28'' x 40'' tops!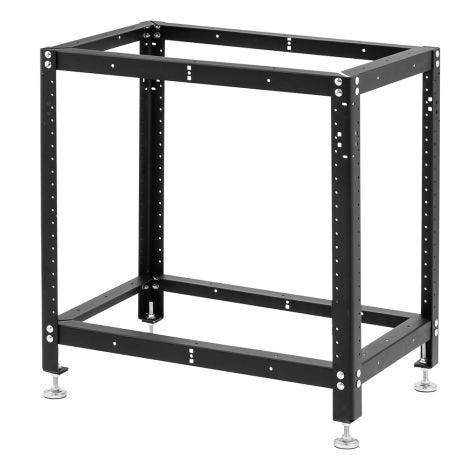 Important Note: NOT compatible with older Rockler stands. Fits ''Rock-Steady'' stands only.
Rock-solid, heavy-gauge steel construction and pre-drilled holes for easy accessorizing make our shop stands the best in the business. This one is the perfect size for any of the Rockler 28'' x 40'' tops, leaving a 4'' overhang on all sides for easy clamping. Use it as a spacious assembly table, a CNC stand, or pair it with our T-Track table for a versatile clamping workbench. All four stretchers have a generous top lip to support both a top and a shelf, and the legs are studded with holes spaced 32mm on center. These accept our optional Drawer/Shelf Brackets and Hinge Brackets (both sold separately), which let you mount shelves, drawer slides and doors with Euro hinges. They also accept our optional Steel Pegboard Panels. The top stretchers can be mounted lower if you wish to add a vise or a top drawer to the stand.
Features:
The perfect size for Rockler's 28'' x 40'' Table Top (#45996) or 28'' x 40'' T-Track Table (#46654)
Makes a sturdy CNC stand, assembly table or workbench base
Heavy-duty steel construction: 14-gauge steel for stretchers, 10-gauge steel for legs
Durable powder-coat finish
Top lip of stretchers has pre-drilled holes for mounting top or shelf
Holes in legs are spaced 32mm apart for attaching accessories such as hinges, drawer slides, shelf brackets and panels
Top stretchers can be mounted flush with top or about 5-1/8'' down to add a drawer or vise
Legs and stretchers are pre-drilled with square holes for easy assembly with included carriage bolts, washers and nuts
Includes four 20'' stretchers, four 32'' stretchers and four 32'' legs with adjustable leveling feet
Note: Rock-Steady stands are NOT compatible with previous Rockler stands, nor are the accessories interchangeable. Accessories that fit this stand will be clearly marked as fitting ''Rock-Steady'' stands.
Deck out your stand with these awesome Rock-Steady accessories!
Hinge Brackets (#50676, sold separately)
Drawer/Shelf Brackets (e.g. #57363, sold separately)
Pegboard Side Panels (e.g. #60671, sold separately)
Stand Connectors (#66102, sold separately)
Rockler Rock-Steady Shop Stand Kit, 32''W x 20''D x 32''H
(4) 20'' Steel Stand Stretchers
(4) 32'' Steel Stand Stretchers
(4) 32'' Steel Stand Legs
(4) 2'' Diameter Leveling Feet
(32) Washers
(32) 5/16''-18 x 3/4'' Carriage Bolts
(32) 5/16''-18 Nylon Insert Locking Nuts
More Information
Brand
Rockler
Weight
36.650000
Tech Spec

Overall Dimensions: 32'' wide x 20'' deep x 32'' high
Material: 14-gauge steel for stretchers, 10-gauge steel for legs
Finish: Durable black powder-coat
Hole Spacing in Legs: 32mm
Top Stretcher Mounting Location: Flush with top or about 5-1/8'' down