Build-Your-Own Rockler Rock-Steady Shop Stand Components
Mix-and-match components let you build a shop stand in any size you need—new hole pattern for fuss-free assembly and easy addition of accessories!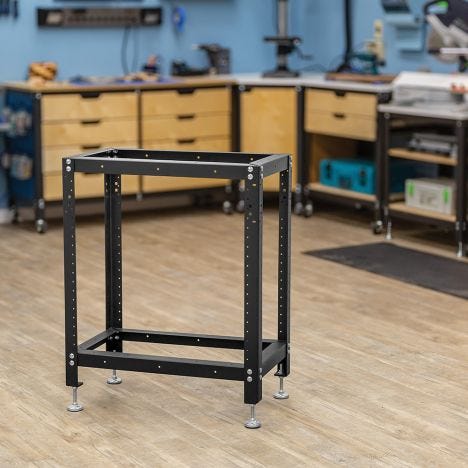 Four of our legs and eight of our stretchers make a stand in just about any size or shape you could need. From low assembly tables to tall workbenches, square or rectangular, large or small, we've got you covered. Our exclusive Rock-Steady stand components are made from heavy-gauge steel. The legs are over 1/8'' thick, available in your choice of 3 different heights, and are studded with holes spaced 32mm on center. These accept our optional Drawer/Shelf Brackets and Hinge Brackets (both sold separately), which let you mount shelves, drawer slides and doors with Euro hinges. The horizontal stretchers, available in six different lengths, are L-shaped in cross section for strength, and are pre-drilled for easy attachment of your top, and, if desired, a bottom. The three longest stretchers (32'', 44'' and 56'') will also accept optional Center Supports so you can add doors in the middle.
Features:
Choose 4 legs, 8 stretchers and 2 center supports (if needed) to create a custom steel stand
Make your own top, or choose from our wide selection of pre-made tops
Legs are heavy-duty 10-gauge steel; stretchers are 14-gauge steel—all have a durable powder-coat finish
Legs have holes spaced 32mm apart for attaching accessories, shelves and panels
Legs include adjustable leveling feet and mounting hardware for stretchers (adjustable feet are 4-3/4'' long and add 1'' to 4'' to the height of the leg)
Choose from three leg lengths (listed 16'', 28'' and 32'' leg lengths do not include adjustable feet; feet add 1'' to 4'' to the leg height)
Six available stretcher lengths (16'', 20'', 28'', 32'', 44'' or 56'') define the width and depth
To connect multiple stands together, see our Stand Connectors (#66102, sold separately)
Note: Rock-Steady stands are NOT compatible with previous Rockler stands, nor are the accessories interchangeable. Accessories that fit these components will be clearly marked as fitting ''Rock-Steady'' stands.
Deck out your stand with these awesome Rock-Steady accessories!
Hinge Brackets (#50676, sold separately)
Drawer/Shelf Brackets (e.g. #57363, sold separately)
Pegboard Side Panels (e.g. #60671, sold separately)
Stand Connectors (#66102, sold separately)
Please refer to the Rock-Steady product titles for pack quantities. Below is a summary:

Legs: Sold in packs of four and include adjustable feet and all hardware for mounting stretchers, including nylon lock nuts and carriage bolts.
Stretchers: Sold in packs of four.
Center Supports: Sold in pairs and include mounting hardware for attaching to stretchers, including nylon lock nuts and carriage bolts.
More Information
Brand
Rockler
Tech Spec

Material: 10-gauge steel for legs; 14-gauge steel for stretchers
Finish: Black powder-coat