Rockler Silicone Glue Brush Set for Dowel Joinery
Round silicone tips deposit the perfect amount of glue for 1/4'', 3/8'' and 1/2'' dowel holes—4th tip has original glue brush for flat surfaces.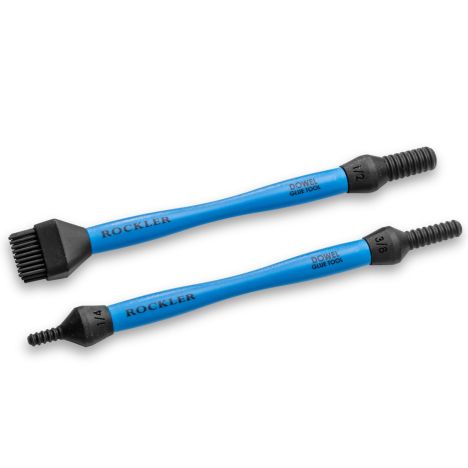 Applying the right amount of glue to dowel joints is important—too much and the joint might not close (or you'll get excessive squeeze-out), too little and the glue bond will be compromised. That's why our Silicone Glue Brushes for Dowel Joinery are ribbed to hold just the right amount of glue. Just a dip in the glue and a quick swipe in the dowel hole deposits the perfect amount. Round tips are included for 1/4'', 3/8'' and 1/2'' dowel joints, while the 4th tip features our original silicone brush for spreading glue on flat surfaces. Thanks to the silicone material, dried glue peels right off.
Silicone Glue Brushes for Dowels:
Includes two double-ended brushes with 1/4'', 3/8'' and 1/2'' round tips and our original glue brush
Dowel sizes are molded into tips for easy identification
Tips are ribbed to hold the perfect amount of glue
Silicone material for easy cleanup—just wipe clean, or peel off once dry
Works with wood glue and polyurethane glue
Patent pending
Note: Not for use with food. Not recommended for use with cyanoacrylate (CA) glue.
(1) Rockler Silicone Glue Brush for Dowel Joinery (1/4'' and 3/8'' dowels)
(1) Rockler Silicone Glue Brush for Dowel Joinery (1/2'' dowels, original glue brush)
More Information
Brand
Rockler
Tech Spec

Brand: Rockler Innovation
Material: Silicone tips; polymer handle
Compatible Dowel Diameters: 1/4'', 3/8'' and 1/2''
Overall Length of Brushes: Approximately 8-1/2''
Original Brush Bristle Width: 1''