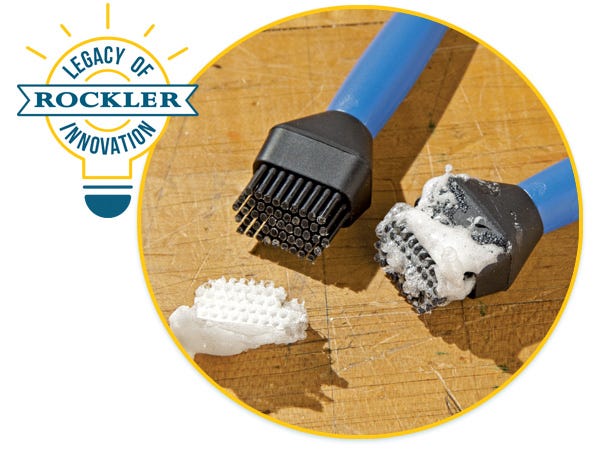 The Rockler family of Silicone Glue Applicators and Project Mats are designed to keep glue where it belongs: in the container, on the brush, or on your project. The silicone material is easy to wash with water, and dried glue easily peels off for long-lasting service - even fully dried polyurethane glue cracks and peels right off. Choose from more than fifteen different glue brushes, rollers and spreaders for perfect glue applications on any size project.

The Rockler Glue Bottle Dock helps you keep your glue bottle in the same spot and ready-to-go. It stores your bottle upside-down, so the tip remains primed with glue—no shaking or repeated squeezing required. Mount it to the wall, your bench, a Rock-Steady Shop Stand or to standard pegboard.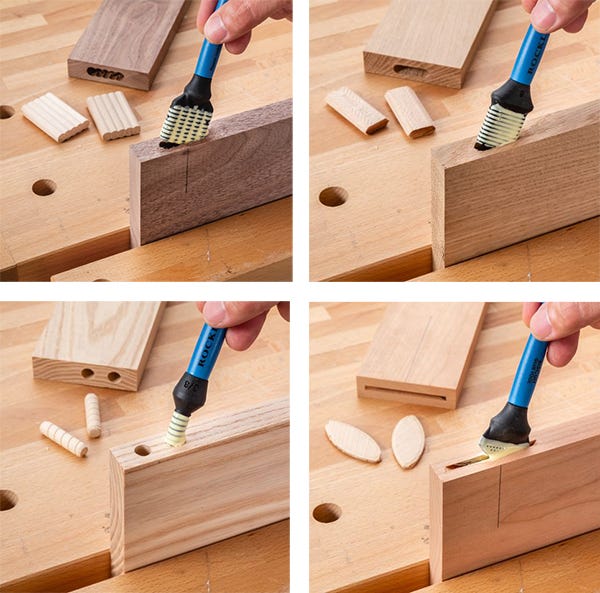 These new Rockler Silicone Glue Brushes are designed to make it fast and efficient to apply glue to the special mortises that are formed for the following joints:
Beadlock - sizes 1/4"-, 3/8"-, and 1/2"-dia. mortises (top left)
Festool Domino - sizes 4mm, 6mm, 8mm, and 10mm mortises (top right)
Dowel - sizes 1/4"-, 3/8"-, and 1/2"-dia. mortises (bottom left)
Biscuit - one size fits all biscuit slots (bottom right)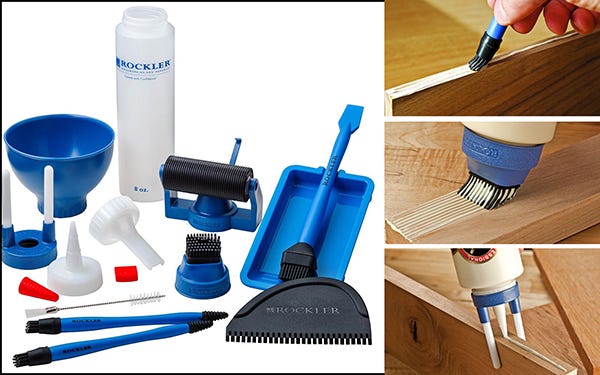 The Rockler silicone glue applicators include brushes and glue bottle attachments that fit both the Rockler Glue Bottle and Titebond 16 and 32 oz glue bottles. The Glue Application Master Set includes four glue applicators - a Standard Glue Spout, a silicone brush for wider boards, a roller for very wide boards, and a mortise tip for traditional mortises, domino mortises and biscuit slots - you can deposit glue precisely where you want it, with minimal squeeze-out. The centering attachment fits onto the Standard Spout to keep your glue bead locked on center when edge gluing, while the funnel makes transferring glue from jug to bottle a mess-free experience.

The 5'' Glue Roller with Silicone Rest is the latest addition to the Rockler family of silicone glue applicators. For gluing up wide boards, veneers and laminations, you just can't beat the glue-spreading talents of our jumbo 5'' glue roller. Give it a whirl and you'll see that the job goes quicker and the film thickness is more consistent, leaving no voids, less wasted glue and less squeeze-out to cleanup. The silicone roller is ribbed to provide just the right amount of glue-holding capacity for woodworking applications. When it comes time to clean up, the roller detaches from the handle for easy rinsing. Plus, if you forget to rinse, no worries, the glue will peel right off once dried.

The protective project mats are made from easy-to-clean silicone, meaning wet glue rinses off and dried glue peels off. Use them anywhere you want to protect your work surface or your project, whether in the garage, shop or on the dining room table. Since it's heat-resistant, it works well as a protective barrier for hot glue guns. The material is very soft, and one side has a textured surface to trap debris that could scratch or dent your project. Also great for craft projects, art projects and scrapbooking. Choose either the 15" x 30" mat or the larger 23-1/2" W x 30-1/4" XL mat. If you need more coverage, the XL mat features an interlocking design that lets you chain together as many as you need end-to-end to cover your bench.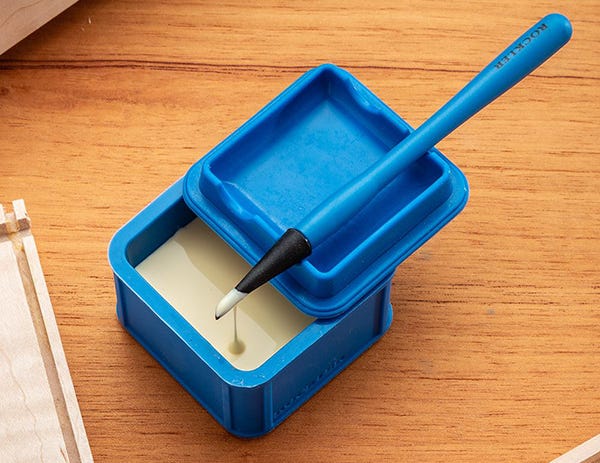 Rockler's Silicone Glue Keeper is the perfect glue reservoir for small projects. The lid doubles as a cradle for your glue brushes. When you're done, the lid seals tightly enough for short-term storage. Cleanup is quick—wet glue pours cleanly back into the bottle, and dried glue peels right off.