Rockler Silicone Glue Keeper
Neat, precise glue application from a stable, compact container that's exceptionally easy to clean—great for mixing epoxy.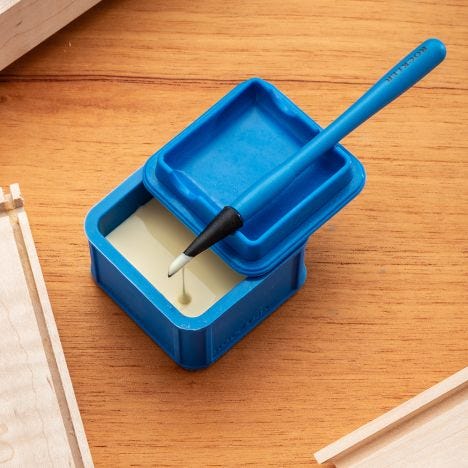 Glue is notoriously messy, but only if it winds up where it doesn't belong. Rockler's glue reservoir keeps it where it belongs: in the container, on the brush, or on your project. It does this with several clever design features. First, the lid doubles as a cradle for your glue brushes. Flip it over and attach it to the base so it's half-open, then set your brush in the cradle so excess glue drips back into the container. You can also set the lid onto the bench and prop your brush over it so drips fall into the inverted lid. The bottom of the reservoir is sloped to keep the glue pooled, and the corners are rounded so glue doesn't get trapped. When you're done, the lid seals tightly enough for short-term storage. Cleanup is quick—wet glue pours cleanly back into the bottle, and dried glue peels right off.
Features:
Perfectly sized for easy handling and a range of gluing tasks
Features a lid that seals for short-term storage
As with all Rockler silicone glue tools, cleanup is easy—wet glue washes away and dried glue peels right off
Curved notches on underside of lid serve as glue brush holders, and molded profile on other side locks onto box half-open or fully closed
Slight taper and curved bottom in reservoir keeps glue pooled for easy brush loading
When flipped, underside of lid can hold dabs of glue for small jobs
Lid (or container) is also great for mixing epoxy
Reservoir holds about 2 oz. of glue
(1) Rockler Silicone Glue Keeper
(1) Lid
More Information
Brand
Rockler
Weight
0.350000
Tech Spec

Material: Silicone
Capacity: Approximately 2 oz.