Creates a super smooth, flat bottom that is splinter-FREE.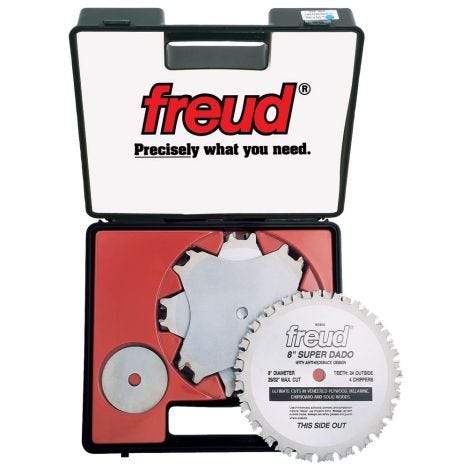 The SD500 Series of dado sets cuts everything from veneered plywoods and laminates to solid wood, chip and splinter-free with a super smooth, flat bottom. The SD500 Series dado sets were the first to include a 3/32" thick chipper and has the flexibility of an adjustable dado to handle today's undersized plywood. This allows the cut width to be adjusted in 1/32" increments and doubles the number of slot widths available. A shim set is also included with the dado set for fine adjustments. Use on all table saws, and radial arm saws for cutting slots, grooves, dadoes, and rabbets in softwood or hardwood.
Features:
Cuts chip-free dadoes, slots, grooves and rabbets
3/32" chipper (included) for undersized plywood
Shim set is included for fine adjustments
Cuts plywood & laminate to solid hard and soft woods
3/32" chipper allows cut width to be adjusted in 1/32" increments
(4) 1/8" Chippers
(1) 3/32" Chipper
(1) 1/16" Chipper
(1) Shim Set
Plastic case
More Information
Brand
Freud
Manufacturer Part Number
SD508
Weight
10.600000
Tech Spec

Material: Carbide tipped
Use With: Table Saws & Radial Arm Saws
Arbor: 5/8"
Diameter: 8"
Dado Range: 1/4'' to 29/32''

Saw Blade Diameter
8"