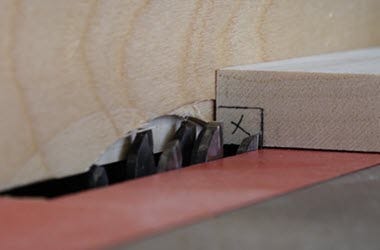 A rabbet is when the material at the edge of a board is removed, usually along the grain, but can also run along the end grain. Rabbets are often found in the back of a carcass to house a back panel and in door frames where glass may be inserted. Rabbets are also found on panels where the edges are removed to fit into a frame. This video covers the various scenarios and types of rabbets.
How to Machine Rabbets with Tim Rousseau
In this video, Tim Rousseau, an instructor at the Center for Furniture Craftsmanship, demonstrates how to cut a rabbet. Like grooves, rabbets can be through cut or stop cut, and depending on the rabbet, machine on a table saw or router table.
The table saw is the most efficient tool for cutting through rabbets, less so with stop cut rabbets. With a single blade setup, a rabbet can be cut in two passes. If the board is tall, it is safest to add a tall auxiliary fence. Also, for safety, always make sure the waste from the cut is on the outside of the blade not trapped in by the fence. Make the vertical cut first and second the cut with the board on the table.
With a dado stack in the table saw, all the material can be removed in one pass. The safest way to cut a rabbet with a dado stack is to "hide" the blades in a sacrificial fence. And of course, always use a push block.
To make a stop cut rabbet it is safest to use a router, and it's an easy way to make through cut rabbets too. A tip when routing a stop cut rabbet is to saw a kerf before the line of where the rabbet ends and use stop blocks to know where the rabbet should end. It is also possible to cut rabbets in an already glued up frame or carcass using a rabbeting router bit while climb cutting.
Check out the video above for a step-by-step walk through of how we machine rabbets at the Center for Furniture Craftsmanship.
Related Product Categories