Sugatsune Aileron Lift-Assist Soft-Close Hinge Set and Door Lift for Cabinets
Upward swinging doors lift easily, stay in the upright position, and lower softly when you close them—included Euro hinges make alignment easy!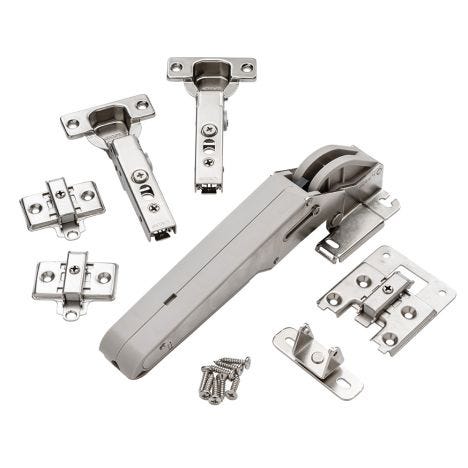 The Sugatsune Aileron Door-Lift System combines a raft of cutting edge features into one simple, easily adjustable system. You get lift assist when opening the door, an adjustable lid stay that frees up your hands as you search for items in the cabinet, quiet soft-close action and 3-way adjustable concealed hinges. With the door up and out of your way, you'll enjoy an unobstructed view and easy access to the contents of the cabinet. The lid stay attaches to the hinge arm for a clean look, and the soft-close damper is adjustable with a simple 5-way selector switch. If you have (or would like) drop-down doors in your kitchen or bath, you'll love this system.
Features:
Lift-assist function allows for easy opening of top-hinging doors
Lid stay function keeps door open so you can use both hands to retrieve the items you need
Soft-close function brings doors gently to the closed position
Includes everything you need: concealed hinges, lid stay arm, mounting plates and screws
Closing speed of doors is adjustable
Note: See the ''Specifications'' section for a guide on selecting the proper lift tension.
Sugatsune Aileron Lift-Assist Soft-Close Hinge Set and Door Lift for Cabinets
(1) Aileron Door Lift/Lid Stay Arm
(1) Aileron Mounting Plate
(2) Olympia Concealed Hinges
(2) Olympia Mounting Plates
(8) Screws for Olympia Hinge
More Information
Brand
Sugatsune
Tech Spec

Compatible Cabinet Type: Frameless
Minimum Interior Cabinet Depth: 5'' deep
Material: Steel, zinc alloy
Finish: Nickel

Which lift tension should I choose?
To select the correct lift tension for your door size, calculate your ''Max. Door Moment'' using the formula and example below.

Max. Door Moment = Door weight (in kg; be sure to include handle weight) x 9.80665 x Distance from hinge pivot to door's center of gravity/balance point (in meters).

Example:

Door weight plus handle weight = 4.5 kg (9.92 lbs)
Distance from hinge pivot to door's center of gravity/balance point = 0.18m (~7'')
4.5 x 9.80665 x 0.18 = 7.943, this is your ''Max. Door Moment''
Using the guide below, a Max. Door Moment of 7.943 requires one High-Tension lift

Selection Guide using Max. Door Moment (using 1 lift):

4.0 to 6.0 — Medium Tension (Type M)
6.0 to 8.0 — High Tension (Type H)