Tormek 10'' Diamond Wheel, Extra-Fine (1200-Grit)
Extra-fine 1200-grit diamond wheel leaves the finest possible finish—ideal for carving tools and kitchen knives when the need for steel removal is minimal.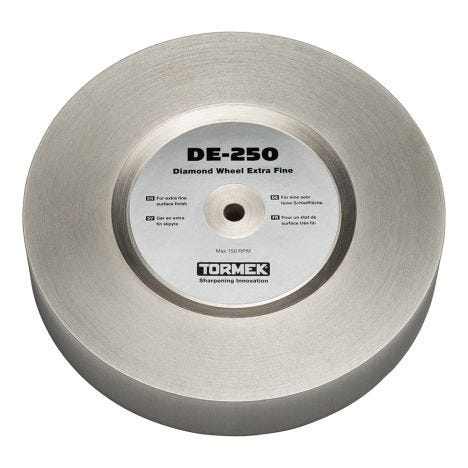 Tormek Diamond Wheels feature an exceptionally durable diamond abrasive that sharpens a wider range of materials, including ceramic and carbide. The wheels are built with a rigid steel frame that withstands the lateral pressures of side grinding, allowing you to sharpen flat bevels on the flat side of the wheel. Unlike traditional wheels, diamond wheels always remain the same diameter throughout their life, ensuring a consistent hollow grind when sharpening on the perimeter. When sharpening on the side of diamond wheels, we recommend using the Tormek Multi Base MB-100 (#64665, sold separately) outfitted with the appropriate jig for your specific tool.
Features:
Sharpens a wider range of materials, including steel, ceramic and carbide
Capable of withstanding lateral pressure of side grinding—ideal for flat bevels when maximum edge-holding is required
Fits Tormek T-8, Tormek T-7 and other previous models with a 250mm stone diameter
Made from a precision-machined steel frame coated with diamond abrasive, electrolytically anchored with nickel
Includes 150mL of ACC-150 Anti-Corrosion Concentrate. Always use ACC-150 in the sharpening water to prevent rust on the grinding wheel
(1) Tormek 10'' Diamond Wheel, Extra-Fine (1200-Grit)
More Information
Brand
Tormek
Manufacturer Part Number
TOR-DE250
Weight
12.700000
Tech Spec

Grit Size: 1200 (Extra-Fine)
Abrasive Type: Diamond