Tormek T-8 Sharpening System
The industry's gold standard for water-cooled sharpeners—features a fully cast frame for rigidity, and geared lift mechanism for the water trough.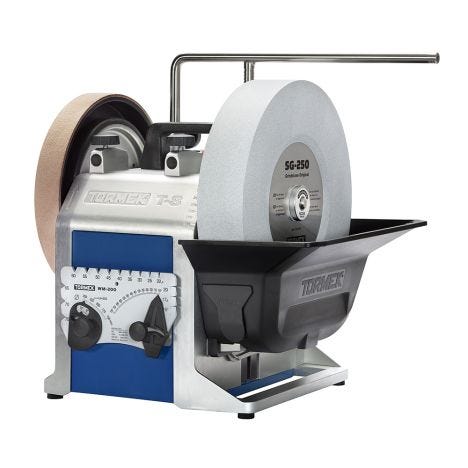 Tormek's T-8 improves on its widely acclaimed predecessors with a fully cast housing for improved rigidity and minimal play on the universal support. Additionally, its large water trough features a geared lift mechanism that lets you easily raise and lower the water trough to minimize splashing and provide easy access to the grindstone. At the bottom of the trough, a removable magnetic scraper lets you easily clean the trough, and most of the steel is already gathered by the magnet during sharpening. The system includes the improved SE-77 Square Edge Jig, which includes a fine-tuning adjustment knob for quickly squaring chisels to the wheel. The T-8 also includes the TT-50 Truing and Dressing Tool, which uses a diamond cutter to return worn, out-of-round wheels to like-new condition. All of the features woodworkers have come to love are retained in the Tormek T-8. Thanks to water cooling and a slow running speed, you get better control over the edge, without the risk of ruining the temper. Since the wheel is continually immersed, there are no sparks, and thanks to the quiet, vibration-free motor, sharpening becomes a pleasant task. Both the initial shaping and the sharpening are carried out on the same grindstone. The grindstone can easily be changed from fast grinding to fine sharpening using the Stone Grader. Honing and polishing is carried out on the leather honing wheel to bring your tools to a razor sharp, mirror-like finish.
Features:
Fully cast housing improves rigidity and reduces vibration for greater accuracy
Geared lift on water trough lets you raise the trough tightly up to wheel with the turn of a dial
Included SE-77 Square Edge Jig accepts blades up to 77mm or 3'' in width
Truing and Dressing Tool with micradjustable screw feed trues the grindstone exactly round and flat. Features dual knobs for smooth feed across the stone
Stainless steel hardware prevents rust and wear on bearings
(1) Tormek T-8 Sharpening System
(1) SE-77 Square Edge Jig
(1) TT-50 Truing and Dressing Tool
(1) SP-650 Stone Grader
(1) WM-200 AngleMaster
(1) PA-70 Honing Compound
(1) HB-10 Handbook
(1) Tormek DVD
More Information
Brand
Tormek
Manufacturer Part Number
TOR-T8
Weight
40.100000
Tech Spec

Overall Dimensions: 270 mm (10-5/8'') W x 270 mm (10-5/8'') D x 330 mm (12'') H
Grindstone Specs: Tormek Original Grindstone, Aluminum oxide, 250 x 50 mm (10'' x 2'') 90 rpm, torque 14.7 Nm
Leather Honing Wheel Size: 220 x 31 mm (8-5/8'' x 1-1/4'')
Main Shaft: Stainless steel main shaft, stone hardware and EzyLock
Housing Material: Cast zinc top and frame with ABS plastic side panels
Motor Specs: Industrial single phase, 200W (input) 230 V, 50 Hz or 115 V, 60 Hz. Continuous duty, Maintenance free. Silent running, 54 dB. 25,000 hour life