A durable fine-furniture finish that produces a semi-gloss sheen and gets more durable with age.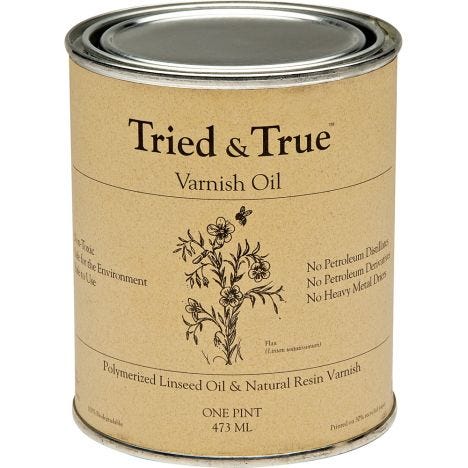 An excellent finish for the finest of furniture, Tried & True Varnish Oil is a semi-gloss topcoat that builds durability and sheen with each application. It has excellent abrasion and scratch resistance and takes a high polish, if such is desired. Made from highly polymerized linseed oil fortified with natural resin varnish, which is derived from pine sap. Indoor use only.

Features:
A unique blend of highly refined polymerized linseed oil and natural resin varnish.
Resin is modified pine sap (a modified ester of Rosin that is non-toxic and food safe).
Formula derived from 19th century varnish making techniques.
High resin content produces a beautiful semi-gloss sheen.
Builds gloss, depth, and durability with each coat.
Will take an excellent polish, making it the ultimate hand-rubbed finish.
Gets harder and more durable with age.
Directions for Use:
Apply thin coats. It is almost impossible to use too little.
Allow the finish to sit on the surface about 1 hour.
Wipe dry and buff.
Consult the label for instructions on how to dispose of wiping cloths.
Two or three coats is usually enough on vertical surfaces.
Table tops or similar applications should get a minimum of three coats.
Buff with a soft, clean cloth to maintain the shine.
(1) Tried & True Varnish Oil
More Information
Tech Spec

Dry Time: 1 hour
Recoat: 24 hours
Recommended # of Coats: 2-4
Coverage: Up to 1000 sq. ft./gallon

Use
Interior