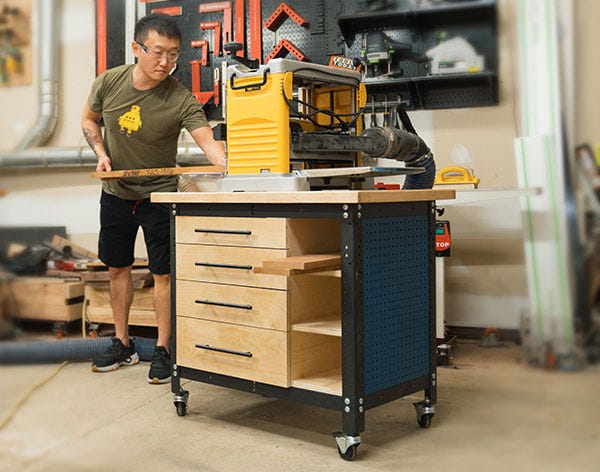 I have stored my planer on the ground for years and lifted it up to the workbench whenever I needed to use it. Although I knew I needed a more permanent home for my planer, I never seemed to be able to find the time to make it. That's why the Rockler Rock-Steady Shop Stand, with its large number of customizable options, is perfect for a project like this. The assembled frame is 32" x 20" x 28". After adding the casters and a 1.5" top, the final size of the cart came out to be 36" x 24" x 33", which was the perfect size for me.

Project design and plan by Alex from Bevelish Creations.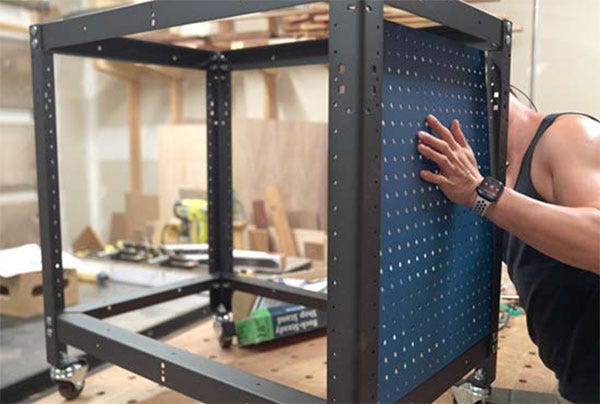 I assembled the Rock-Steady Shop Stand 20" stretchers (#54592) to the 28" legs (#56980), and then attached them together to the 32" stretchers (#67229). All the hardware necessary to assemble the stand is included. I closed off the right side with a 20x28 steel pegboard panel (60671).
VIDEO: Making this Planer Cart from Bevelish Creations
This project was designed and built by Alex from Bevelish Creations. You can find more of Alex's work at:
www.bevelishcreations.com.