Flat Breather Netting for Roarockit Vacuum Bags
Softer than the standard breather material so the mesh won't transfer its pattern to delicate veneers.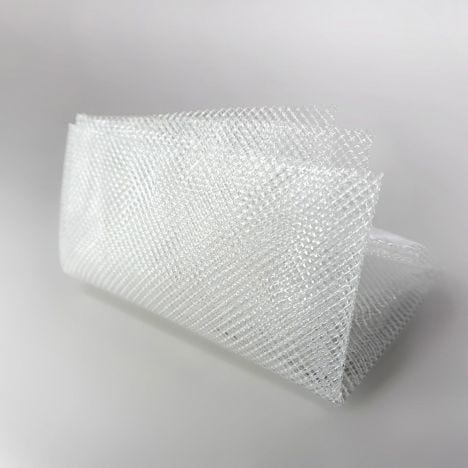 Additional Shipping and Handling Charge: $16
Ships directly from the manufacturer.
Must be shipped within the 48 Contiguous United States.
Cannot ship via USPS.
Estimated Vendor Lead Time: 7-14 business days.
25% restocking fee on all returned merchandise.
Please call customer service before returning product.
Breather Netting goes under the valve of your vacuum press bag, ensuring that the air passage stays open for full evacuation of the bag. Flat Breather Netting is softer and thinner than the standard Breather Netting included with the 26'' x 28'' Roarockit Thin Air Press Vacuum Bag Kit (#69454, sold separately). This softness makes it ideal for thin, delicate veneers or softer woods. It won't leave a pattern of dents, as the standard breather can sometimes do while under vacuum. Since the Flat Breather Netting comes in a larger 24'' x 24'' sheet, it also helps prevent veneer (especially thin veneer) from forming bubbles while being pressed. Cut with scissors into smaller pieces, or use the full sheet as supplied. It is not necessary to completely cover the project being pressed.
Note: Flat Breather Netting is not as robust as the standard breather and may tear more easily, especially when trying to remove dried glue.
(1) 24'' x 24'' Sheet of Flat Breather Netting for Roarockit Vacuum Bags
More Information
Manufacturer Part Number
BNETF
Weight
1.400000
Tech Spec

Brand: Roarockit
Sheet Dimensions: 24'' x 24''