Rockler Vacuum Bag Port Adapter for Roarockit
Make vacuum clamping fast and effortless by connecting your Roarockit vacuum bags to the Rockler electric Vacuum Pump.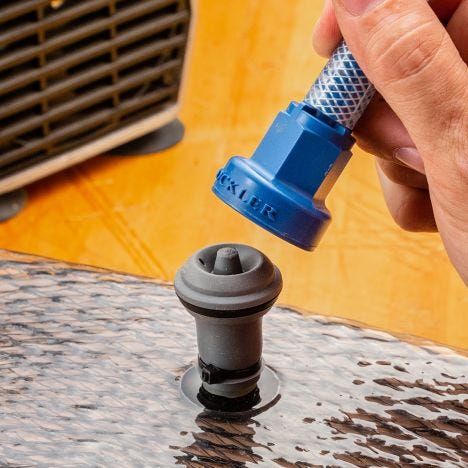 Our Vacuum Bag Port Adapter lets you quickly and easily connect Roarockit vacuum bags (e.g. #69454, sold separately) to the Rockler Vacuum Pump Kit (#57519, sold separately). With a powered pump, you'll be able to put your projects under vacuum with far less effort, and in far less time. You still get all the benefits of the Roarockit one-way valves, which are completely air-tight, meaning you won't have to leave the pump cycling on and off while the glue dries. This also means you can work with multiple bags at once, greatly increasing your efficiency and productivity.
Features:
Allows easy connection between Roarockit vacuum bags and the Rockler Vacuum Pump Kit (both sold separately)
Self-sealing valves/bags let you clamp multiple projects at once, with only one pump, since you don't need the pump to cycle on and off during cure
3/8'' barbed fitting fits directly into the hose on the Rockler Vacuum Pump Kit
Base of adapter fits onto the valve port on Roarockit vacuum bags
(1) Rockler Vacuum Bag Port Adapter for Roarockit Vacuum Bags
More Information
Brand
Rockler
Weight
0.050000
Tech Spec

Brand: Rockler
Material: Polymer
Compatible Vacuum Bags: Roarockit