General Finishes Flat-Out Flat Water-Based Top Coat
Provides additional protection over chalk paints and milk paints while maintaining a completely flat sheen.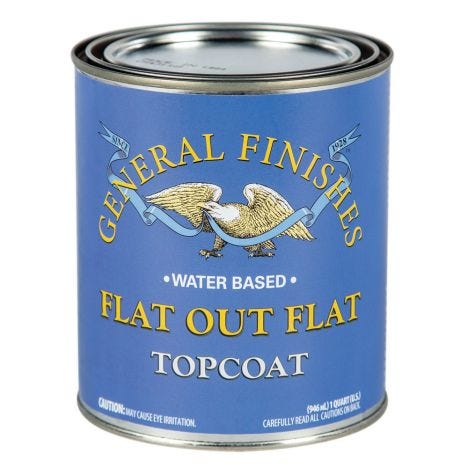 Flat-Out Flat, as its name aptly suggests, is a completely flat-sheened water-based topcoat with an understated look and velvety feel. It can be used over paint, stains or varnish, but is especially well-suited for use over milk paints and chalk paints, where it provides additional protection as a top coat, while also maintaining the characteristic ''antique'' look and feel of the underlying paint. It is sure to be popular among shabby chic restorers and those who specialize in antiqued finishes. Made with a durable self cross-linking acrylic, its performance is similar to GF High Performance, and may be used over or under High Performance.
(1) General Finishes Flat-Out Flat Water-Based Topcoat
More Information
Brand
General Finishes
Tech Spec

Oil based stains must be completely dry before using a water based top coat—wait a minimum of 72 hours before applying GF FOF
Interior use only
Dry Time: 2-4 hours under ideal conditions (70°F and 70% humidity)
Application Method: Foam brush or paint pad applicator
Recommended # of coats: 3
Cleanup: Warm, soapy water

Use
Interior
WARNING:

This product can expose you to chemicals which are known to the State of California to cause cancer and birth defects or other reproductive harm. For more information go to www.P65Warnings.ca.gov/product