General Finishes High Performance Water-based Top Coat Flat
Provides a flat sheen with no gloss—ideal as a protective layer over milk paints and on any piece where minimal gloss is desired.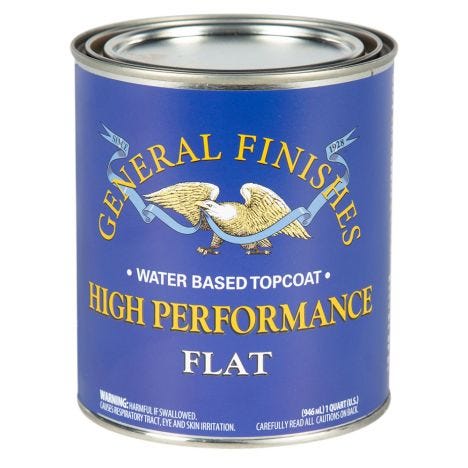 General Finishes High Performance is one of the hardest, most durable consumer polyurethane topcoats on the market today. It is non-yellowing and offers easy water cleanup. This is the flat version, with almost no sheen at all, and is ideal for antiques, rustic furniture, milk paints, or any application where a protective layer is needed without adding gloss. It contains all the consumer-friendly characteristics of PolyAcrylic Blend. In addition, it contains a UV Stabilizer to protect it from breaking down in sunlight and to protect the underlying stains from fading. With its pure polyurethane durability, it's a great choice for hardwood floors.
Direction for use:
Oil-based stains must be dried for a minimum of 48 hours before applying General Finishes High Performance
Use a foam brush or paint pad applicator
Apply enough material to provide a wet film, using smooth, even strokes with the grain
Sand between coats using 320- or 400-grit sandpaper
Remove dust before recoating
A minimum of 3 coats is recommended, with additional coats for increased durability and depth
(1) General Finishes High Performance Water-Based Polyurethane, Flat
More Information
Brand
General Finishes
Weight
2.370000
Tech Spec

Dry Time: 2-4 hours under ideal conditions (70°, 70% humidity—cooler temperatures and higher humidity will prolong drying time up to 8-10 hours)
Clean Up: Warm, soapy water
Coverage: 75 sq. ft./pint; 150 sq. ft./quart; 600 sq. ft./gallon
Thinning: Can be thinned with 10-20% water

Use
Interior