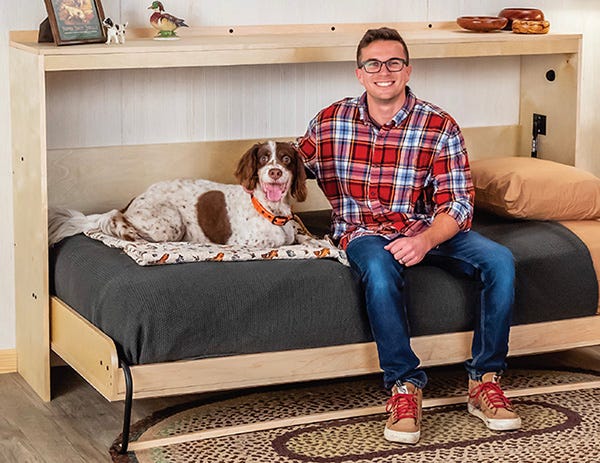 A Murphy bed, sometimes called a folding bed, is the perfect option for a small bedroom or for a guest bed that is only used occasionally. You can choose from two types of Murphy beds. The most common type are vertical Murphy beds that locates the head of the bed against the wall and extend out from the wall. Another option is a side mount or horizontal Murphy bed that locates the side of the bed along the wall.
This free plan demonstrates how to make a horizontal twin-size Murphy bed. This is a great choice for small rooms. The orientation of this bed leaves enough open wall above it that you could hang cabinets or even a flat-screen TV there if you like. It's a good use of space. If you'd rather build a vertical Murphy bed then check out our free Vertical Murphy Bed Plan.
Murphy Bed Hardware
In the old days, the hardware that people used or invented themselves to make a Murphy bed left much to be desired. It basically was just some hinges that allowed the bed box to be lowered down without regard to the weight of the box and mattress or the danger that such a large and heavy unit might pose as it swung down with force. The good news is that hardware specifically designed for Murphy beds is now available. This quality Create-A-Bed product from Rockler has heavy-duty stud plates and gas springs that not only ensure safety but also ease of operation. Bringing the bed down and lifting it back up is about as simple as can be.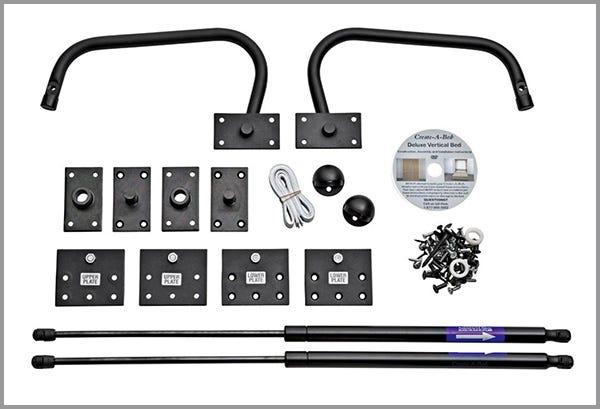 The Side Mount Deluxe Murphy Bed Hardware Kit, also referred to as a horizontal Murphy bed, includes all the necessary hardware included in our standard kits, plus a pair of folding metal legs that support the end of the bed when it's folded out, and tuck neatly inside the bed when stored. Hardware available in Twin, Full or Queen sizes. For vertically oriented applications, see our Vertical Mount Deluxe Murphy Bed Kits.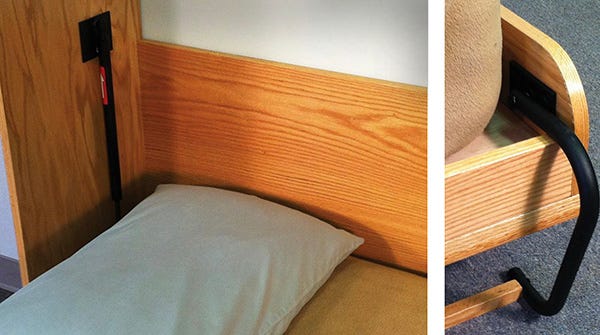 This folding bed hardware is finely engineered, counterbalanced for smooth operation without binding or overextending, and uses a sophisticated piston lift system (left) rather than old-fashioned springs that can break and slacken over time. The folding tube legs (right) are totally concealed inside the bed cabinet when it is closed and are manually rotated over the end of the bed face panel when it is lowered out of the cabinet.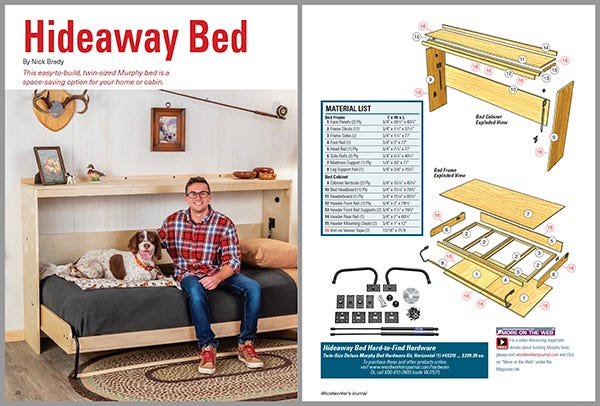 Video: Securely Attaching Your Murphy bed