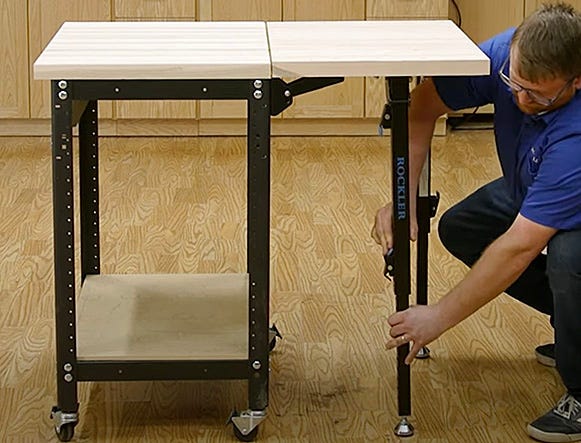 Running out of room in your shop? Try These 5 Space-Saving Work Tables. If you do your woodworking in a small workshop or even the corner of your garage, these five work tables are strong, sturdy and easy to store when you're not using them. Some act as a table top extension for small workbenches and work tables. Others are work tables that fold up to save space and easy storage.
Space-Saving Work Tables for your Shop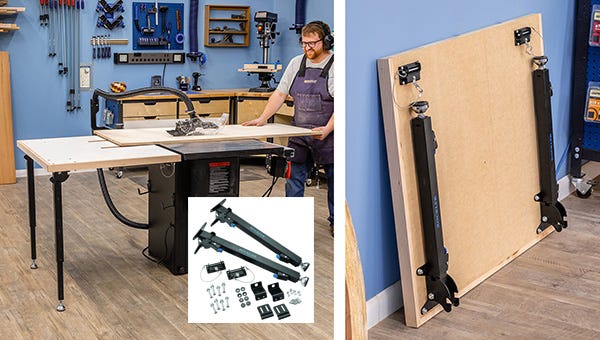 Table saw outfeed tables make it safer and easier to cut large stock and sheet goods with your table saw. Not all shops have the space for a large outfeed table that's permanently attached to the table saw. Luckily, the quick-release hardware and folding legs on our Rock-Steady Knock-Down Table Saw Outfeed Kit make it easy to remove the table and store it out of the way (photo left) — great for small shops where you need all the space you can get. Even if you plan to leave it on most of the time, the ability to remove it when needed is a big plus. Not only are the legs foldable, they also adjust in height with a press of the large paddles. This lets you adjust the height as needed to adapt to uneven floors, and also allows the legs to fold up into a more compact package.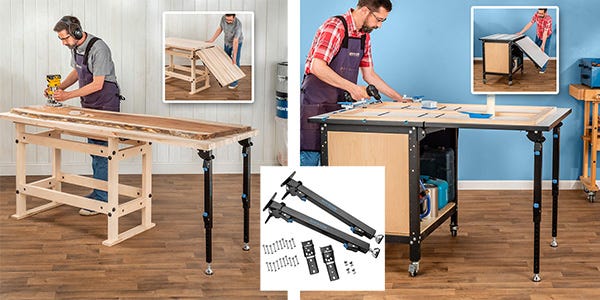 We'd all love a long bench with ample space not only for your project, but also for setting tools down in the midst of a complicated project. If your space is limited, you can build a compact workbench or table and then attach the Rock-Steady Folding Top Extension Kit that lifts up to provide a larger table top extension only when you need it. The sturdy steel folding hinge brackets can be attached either to the legs, or to the overhanging top, making it compatible in almost any application. The folding legs lock into place with a satisfying click in both the extended and the folded positions, and also adjust in height from 22-5/8'' to 37-5/8'' in 1'' increments. To adjust or fold, simply depress the large paddles.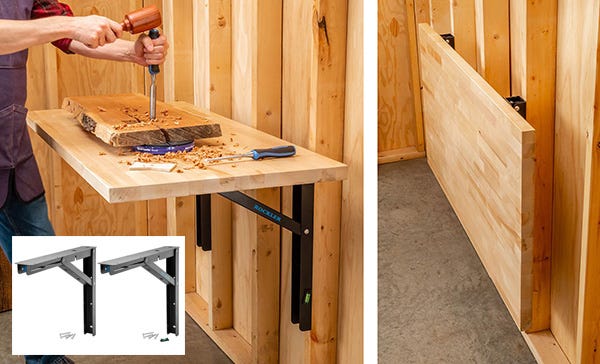 Positioning a work table along a wall is a great way to keep it out of the way, but sometimes space is so tight that you can't keep a work table out along the wall. Our Rock-Steady Folding Worktop Wall Brackets make it easy to create a wall-mounted work table that folds down to save space. Just mount the brackets to wall studs spaced up to 32'' apart, and add a top up to 24'' deep x 40'' wide. Folding the table down is simple—just pull the rubber-coated latches on both brackets simultaneously. It's the perfect space-saving solution for garage shops and other small workshops where space is at a premium.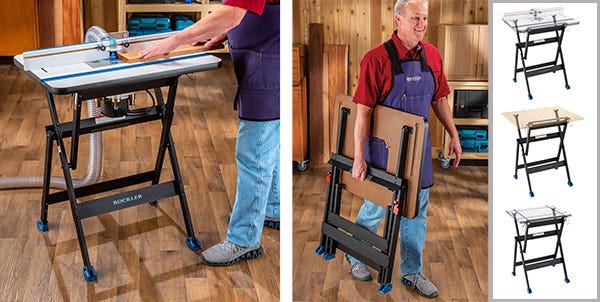 Stowability and strength make our Rock-Steady Folding Steel Stand an excellent choice for supporting router tables, T-track tables and other work surfaces wherever space is tight. Thick gauge steel, strong pivot points and anti-racking supports give the stand a weight capacity of up to 200 pounds. When you're done using it, just pull the pins, lift up on the table, and fold the legs for compact storage against a wall or transport to the jobsite.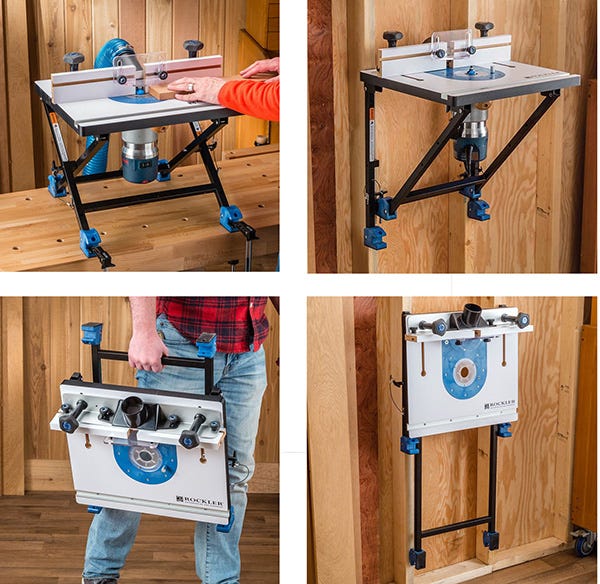 The folding base on our Convertible Benchtop Router Table can be quickly reconfigured for benchtop use, wall-mounted use, or folded up for storage or transport. In addition, the unique router plate (sold separately) lets you quickly remove the router for freehand use, then dock it again for table use—the compact size of the plate makes it light and nimble in freehand applications. Compact and portable, yet full-featured, the table is ideal for small shops and jobsite use. Triangulate the base and mount it to the wall of your shop or to stud walls on the jobsite.